Toppers of Matric 2023 Bahawalpur board
Do you know that the Bahawalpur board has announced the matric toppers? Yes. They will announce the matric results on 31 July 2023, but they have announced the position holders beforehand. Not only does this tell you how talented the Bahawalpuri students are, but it also inspires many students who want to do good in their exams.
Related: Bahawalpur Board 2023 Matric Result – Check Result By Name and Roll Number
In this article, we will discuss the results, see why the board announces them, and what you can learn from them.
Read: Matric Result 2023 – By Name and Roll Number
So enough with the chatter; let's get straight to business.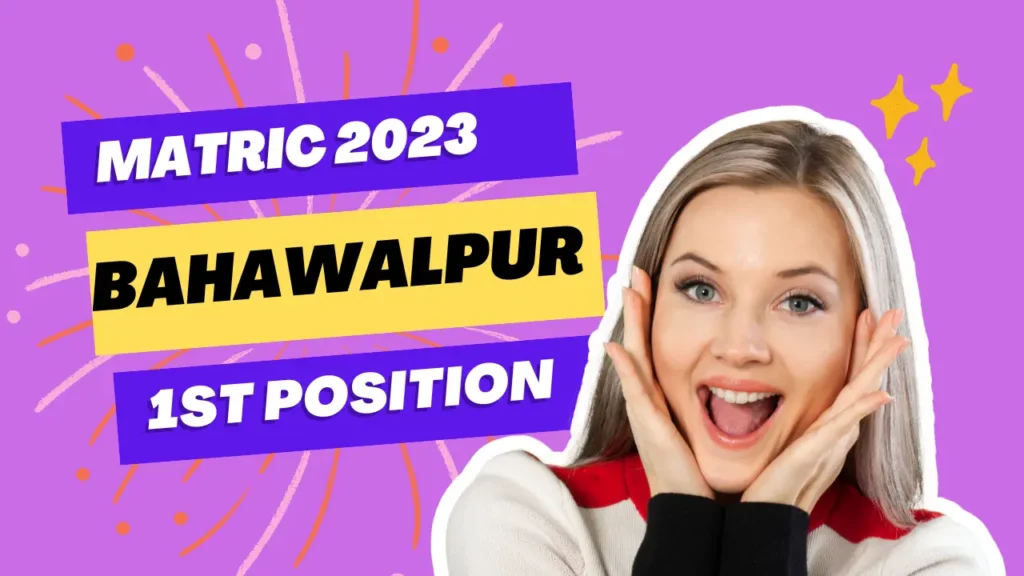 Bahawalpur board class 10 toppers 2023
All the education boards in Pakistan reveal the toppers at least one day before they announce the normal results. BISE Bahawalpur has followed this tradition and announced their position holders. Here are the heroes for today.
Read: Matric Result 2023 Multan Board – Check By Name & Roll No
| | | |
| --- | --- | --- |
| 1st | Faiqa Younas | 1094 |
| 2nd | Muhammad Abdullah | 1093 |
| 3rd | Rahma Qamar | 1092 |
Bahawalpur board class 10 toppers 2023
As you can see, the students have done a phenomenal job by scoring more than 95% marks. But why do the boards announce these results?
Check: DG Khan Board 2023 Matric Result – Check Result By Name and Roll Number
Final words
The education boards in Pakistan announce the position holders before the regular results. But why?
There may be two reasons:
To do publicity for their board.
To inspire other students to study harder and do the same.
Whatever their intentions, it is up to you to take things positively. So what are you waiting for? Grab your books and start studying. Do you want to hear more from us?
Also, Turn on the notifications to get all the updates regarding jobs, admissions, exams, and results.
Check: Bahawalpur 9th class result 2023
Frequently Asked Questions
How can I contact the Bahawalpur board?
You can call them at 062-9255086.
What is the number for the BISE Bahawalpur board helpline?
The helpline number is 0629255497.
How do I check my Bise results?
You can check your results in the following ways.
By roll number
Check results by name
By SMS
What are the total marks of matric?
The total marks in Matric since 2016 are 1100.
Which percentage is good in matric?
A+ is the best score in the 10th class.