Admission In Universities Of Pakistan 2022 [Latest News]
You just finished your higher secondary school examination with flying colors, and your parents want you to pursue your University education at a reputed University.
If you are seeking admission to the different universities of Pakistan offering undergraduate level subjects such as B.S. in Computer Science, B.S. in Chemistry, B.S. in Physics, B.S. in IT, and Mathematics. This site provides information about the Pakistani educational system and allows you to apply to the universities of your choice.
Finding the best universities and colleges in Pakistan can be tough, especially if you don't know where to look. There are thousands of educational institutions in Pakistan with varying standards and quality of education.
Related:- 12 Class Result 2022 By Name Wise
Today you'll learn:
Latest admission news 2022

Different universities & colleges in Pakistan

Govt. Universities

Admissions in Punjab University

What is USAT

Important Dates

for USAT

How to apply for USAT

Admissions in GCU

Private Universities

Semi-Govt. Universities

List of Universities

FAQs
Let's start with the latest admission news.
LATEST ADMISSION News 2022
Upon completion of intermediate exams, most students wish to obtain more information and need a guideline for being admitted to top universities in Pakistan. 
For those students, who want to go to the top universities in the country, we have created a list of the most desired universities. These are the university where you can get admission on merit positions in different programs. These universities provide quality education and prepare you for your future.
All Universities in Pakistan have their own prestige because these are the best universities in the country. But the problem is that these universities are only for upper-class students and those who have performed well in intermediate classes. For them, it is very easy to get admission in one of these universities because they have performed well in all levels of exams.
Related:- MDCAT 2023 Syllabus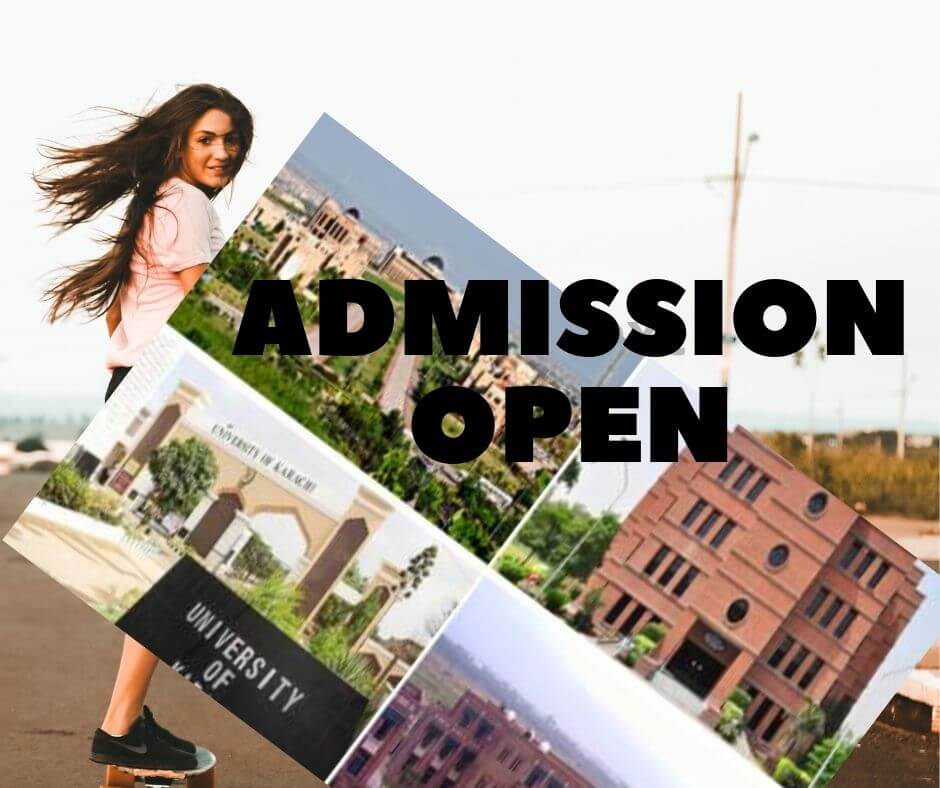 DIFFERENT UNIVERSITIES & COLLEGES IN PAKISTAN
The Higher Education Commission (HEC) in Pakistan recognizes several universities and colleges. HEC sets rules and regulations for the Universities.
Govt.Universities/Colleges

Private Universities/Colleges

Semi-Govt Universities/Colleges
Govt.Universities
These government institutions hold the most importance in the country's higher education system. These universities are providing quality education to students. Students can easily afford the fees in government sector universities. The quality of education in these universities is comparatively better than in private-sector universities. However, most universities require students to take a test before admission.
Admissions in Punjab University
Punjab University is located in the historical and culturally alive city of Lahore. This University has played a leading role in spreading higher education in the country. Punjab University was established in Lahore in 1882. The University of Punjab is Pakistan's largest and oldest seat of higher learning.
Five campuses, 19 faculties, eight constituent colleges, 138 departments, centers, and institutes make up the University. 658 affiliated colleges are also affiliated with the University. It has 991 full-time/regular and 300 part-time faculty members who teach/research on campus. 49,520 of those students are on campus (29,588 morning students, 18,838 evening students, and 1,094 diploma students).
Faculties In Punjab University
Admissions are also available in the following disciplines at Punjab University.
Islamic Studies

Law

Life Sciences

Agricultural Seien«

Oriental Learning

Pharmacy

Sciences

Geosciences

Computing &

Information

Arts & Humanities

Behavioral & Social Sciences

Information & Media Studies

Commerce

Business, Economics

Administrative

Sciences

Electrical, Energy &

Environmental

Engineering

Quality & Industrial System Engineering Chemical &

Materials

Engineering

Education
To apply for admission to Punjab University, you must pass the USAT test.
What Is USAT:
USAT stands for Undergraduate Studies Admission Test. A USAT is designed to cover all known undergraduate disciplines such as Engineering, Medicine (Allied Health), Information Technology, Management, and Social Sciences based on the Scholastic Aptitude Test (SAT). As with the SAT, students who qualify for the respective USAT will be eligible to apply to all relevant universities.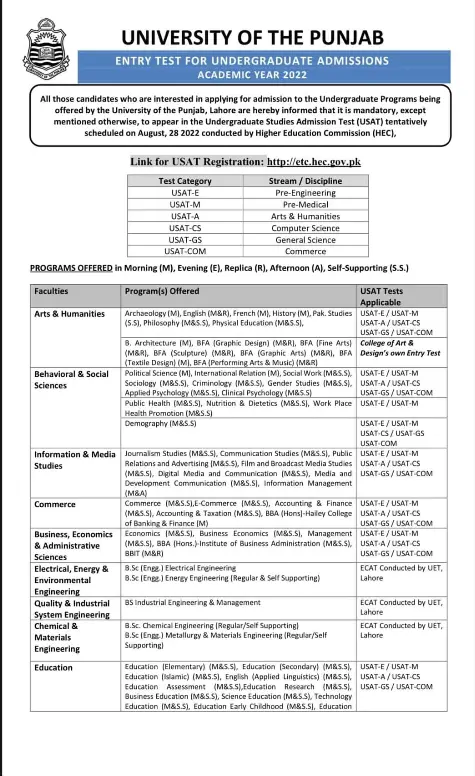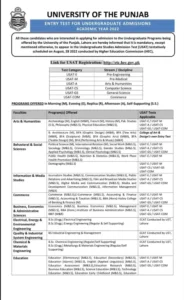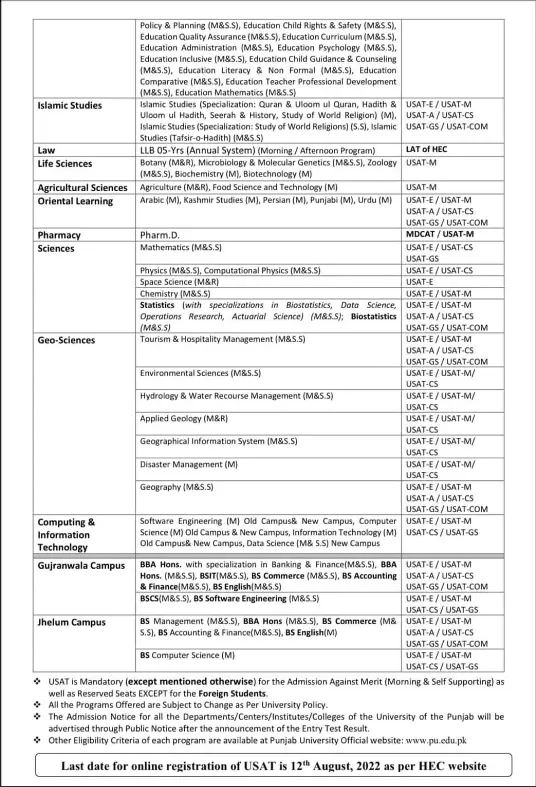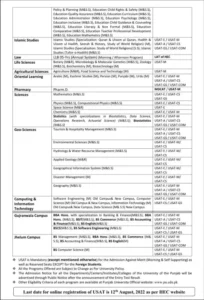 Important Dates for USAT:
For students planning to apply for undergraduate admission, the ETC (Education Testing Council) of the HEC (Higher Education Commission) has announced the deadline for registration for the second batch, which will be open until September 9.
Batch-I:
The USAT was advertised on July 24, 2022, nationwide. The Batch-I, whose registration closed on August 19, 2022, is tentatively scheduled for September 4, 2022.
Batch-II:
To facilitate further registration for the upcoming batch II of the Undergraduate Studies Admission Tests (USAT), the online registration portal of ETC, HEC, will remain open until midnight on September 9, 2022. Therefore, a tentative date of September 18, 2022, has been assigned for the test for Batch-II.
How To Apply for USAT  (A complete guide)
If you want to know the complete procedure for applying for USAT, click on the following link. And check out the section "How to apply." 
Admissions in GCU
Government college university in Pakistan is the most popular and most preferable education destination for every student because it has proved to be the best institute to gain proper knowledge about the future. GCU has started offering admissions in different fields.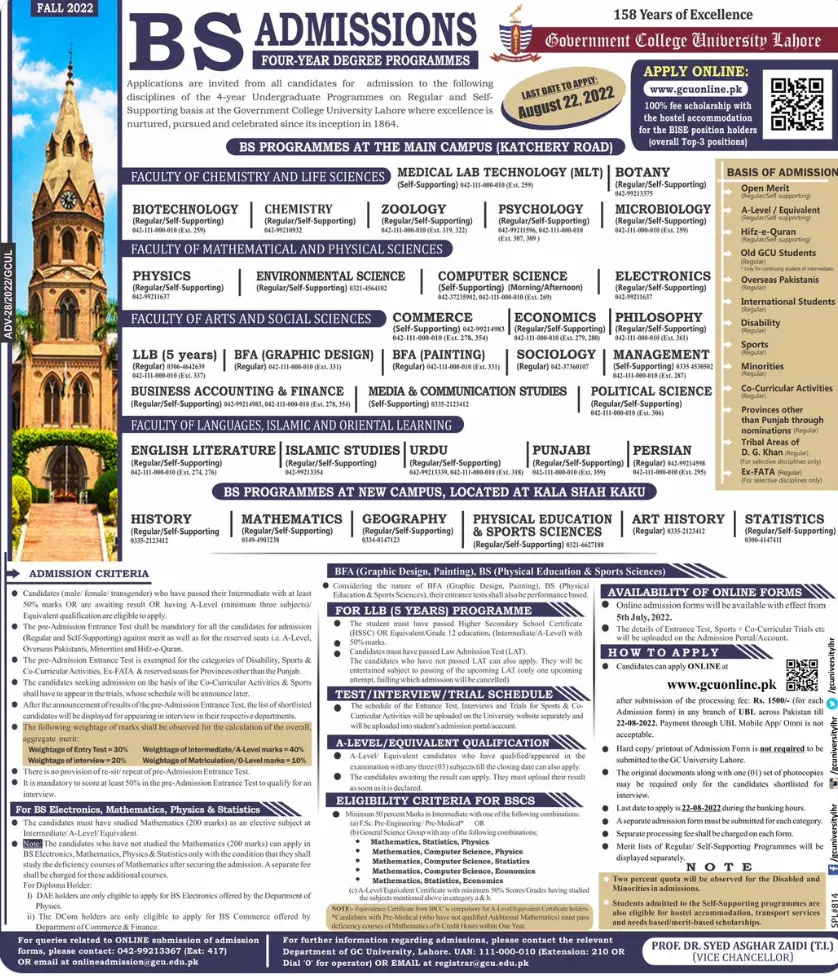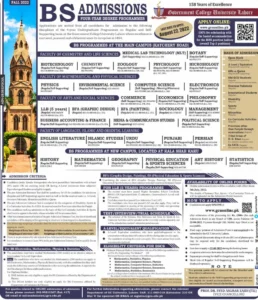 ELIGIBILITY CRITERIA FOR BSCS
Minimum 50% marks in Intermediate with one of the following combinations.
Mathematics, Statistic. Physics

Mathematics, Computer Science. Physic

Mathematics, Computer Science, Statistic

Mathematics. Computer Science, Economics

Mathematics, Statistics, Economics
Aggregate Merit
The following weightage of marks shall be observed for calculating the overall aggregate merit.
Weightage of Entry Test =30%

Weightage of Intermediate/ A-Level marks =40%

Weightage of Interview = 20%

Weightage of Matriculation / O-Level marks =10%
The last date to apply for BS admissions is August 22, 2022
Private Universities 
Even though students' lives in private universities/colleges have improved significantly in recent years, these private universities are still not well ranked internationally. However, the fees charged by these universities are very high, making it unaffordable for a middle-class family. Most universities in the private sector don't require any admission test.
We'll update this page periodically to ensure you access the most recent up-to-date information about private universities and colleges in Pakistan.
Semi-Govt Universities
These universities are not directly operated by the government but are under its control and are not owned by the government but are aided by it. These universities charge a moderate fee.
Many students in Pakistan are confused while selecting their desired educational institution. With thousands of colleges and universities to choose from, we often find it difficult to understand which one fits best for us.
List of Universities:
Below is a list of universities where you may apply for admission to pursue your career. All universities provide a high level of quality education. It is possible to enroll in a variety of faculties, depending on where you live and the amount of fees that you can afford. If you want to learn something new, you can choose one of the universities of your choice.
 International Islamic University, Islamabad

 DHA Suffa University, Karachi

 City University of Science & Information Technology, Peshawar

 Shaheed Zulfikar Ali Bhutto Institute of Science & Technology, Karachi

 National University of Science & Technology (NUST)

 GIK Institute of Engineering Sciences & Technology, Topi (Postgraduate Admissions)

  Institute of Business Administration, Karachi

 Air University, Islamabad

 Federal Urdu University of Arts, Science & Technology, Karachi

 The University of Agriculture, Faisalabad (Postgraduate Entry Test)

 Namal Institute, Mianwali

 Institute of Space Technology (IST), Islamabad (Undergraduate

 US-Pakistan Centers for Advanced Studies in Water, MUET Jamshoro

 National University of Modern Languages (NUML)

 Sukkur IBA University, Sukkur

 Habib University, Karachi

 COMSATS University, Islamabad | Lahore | Abbottabad

  Engineering Colleges Admission Test (ECAT)

 Lahore School of Economics, Lahore

 Information Technology University, Lahore

 Institute of Business & Management

 Textile Institute of Pakistan, Karachi

 National University of Computer & Emerging Sciences (NUCES-FAST

 Karachi Institute of Economics & Technology, Karachi

 Bahria University, Karachi

HITEC University, Taxila

Shifa College of Nursing, Islamabad

Shaheed Zulfikar Ali Bhutto Institute of Science & Technology, Hyderabad

Pakistan Institute of Development Economics, Islamabad

Mohammad Ali Jinnah University, Karachi

Shaheed Zulfikar Ali Bhutto Institute of Science & Tech
Almost all the universities are finalizing their admission processes. So hurry up to grab your seat in one of the best institutions in Pakistan to pursue your higher studies. You must visit frequently and keep yourself informed about the admission dates. We will update you regularly regarding the important dates related to admissions to different Universities in Pakistan.
I hope you have got the latest information about admissions in different Universities in this article. If you are confused, you may contact us or leave a comment below. We will be happy to assist you.
FAQs
Q. Is USAT applicable to all government Universities
Ans: Right now, USAT applies to the University of the Punjab only. In some faculties of engineering, ECAT is also acceptable.
Q. What are some best Universities in Pakistan.
Ans: 
University of the Punjab

National University of Sciences and Technology(NUST)

COMSATS University Islamabad

Agha khan University
Q. Can we use a single form for admission in different fields of the same University.
Ans: No, A separate form is needed for admission in different disciplines.