UHS offers admissions in CME and CMJE – 2023
University of health sciences is offering certifications in CME and CMJE. These admissions are for batch 5 of Certification in Medical Editing (CME) and Batch 2 for Certification in Medical Journalism for Editors (CMJE). The last date to apply is 6 February 2023. So if you want to avail this opportunity, you must hurry up and apply now.
This article will cover different aspects of these certifications, such as what you will study in these courses, the fee structure, eligibility criteria, and the application process. The whole thing is simple, so be with us and apply as you read this article.
UHS offers admissions in CME and CMJE – 2023
UHS has the honor of being the pioneer and trendsetter in offering such courses in Pakistan. Not only do they use real-life examples as tools for teaching students about medical editing and medical technical writing, but they also have assignments that will help students grasp basic concepts about medical journalism worldwide. In addition, different writing and editing tools are used for research, such as Endnote, SPSS, and other software. UHS will give training about these tools as well.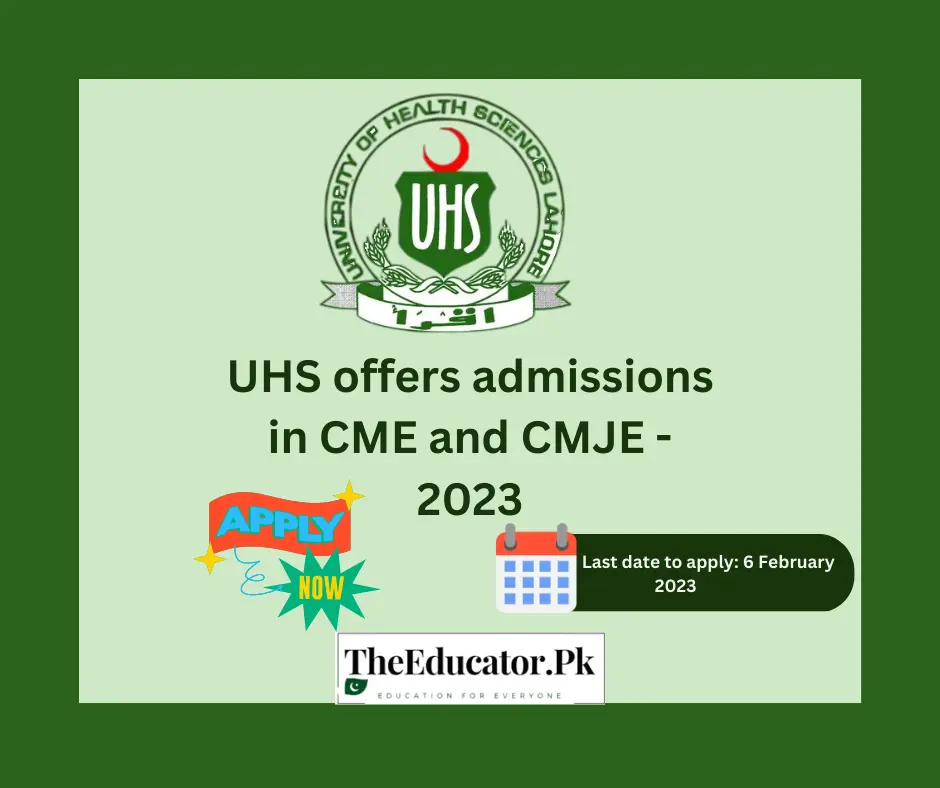 Students will get these 6 months of training from experienced researchers and writers. So, they will get first-hand knowledge of modern trends and tricks. There will be 4 days of training at journal offices as well. So, this will also be a chance for you to network with the editors for future work and references. One of these sessions will be held in Karachi.
While completing the assignments, you will slowly build a portfolio for professional purposes. So, it is a comprehensive course then slowly instils you into the real world.
What will you study?
Students will learn the following concepts in these certifications:
CME
Types of medical writing include reports, review articles, metanalysis, systematic analysis, and network meta-analysis.
Students will learn about peer-review journals
Ethics in medical writing and research
Copy editing
Open access journals
Different Business Models
CMJE
The role of editors
Students will learn how to deal with the situation when they must retract their work.
Indexing
Registrations of clinical trials – The whole process
Legalities of medical journalism – Ethics
First-hand experience through an internship
Eligibility criteria
You have to meet the following requirements to apply for these certifications.
CME
Candidate should have any of the following degrees: MBBS, BDS, or any degree in Allied health sciences.
Those candidates who have published any paper in any journal will be preferred.
Applicants who are working with journals or who have experience in publication will be preferred.
CMJE
Candidate should have completed CME and experience working with journals in any editorial role.
Fee structure
Candidates have to pay 50 thousand PKR for CME.
Those candidates who want to apply to UHS for CMJE have to submit a fee of 80 thousand PKR
Application process
Follow these simple steps to apply
Visit the UHS website
Navigate to downloads
Download the application form
Print it and fill the application form
Submit this by hand, or you can also send it via post
The address is, "Office of focal person CME program, Room number 4, UHS, Lahore."
Conclusion
Research is an essential part of medical sciences these days. And this research is done formally in the form of medical writing and journals. Pakistan is a country that has a lot of potential in terms of research. Hence, there will always be a need of medical writer and editors in journals. These certifications are absolutely essential and it is a nice initiative from UHS.