University of Sargodha Spring Admissions 2023
The University of Sargodha is excited to announce that spring admissions for the 2023 educational session are now available. The university will accept applications for both undergraduate and postgraduate courses at the university.
Interested students should be aware that the sole option to register for admission is via the university's online application portal, which can be found at admissions.su.edu.pk. The platform will be operational from February 5, 2023, with applications due by February 20, 2023.
It is vital to remember that requests filed via any other methods will be rejected. Before completing their applications, the institution advises all candidates to verify that they have satisfied all of the essential prerequisites. This involves possessing the necessary academic credentials and other required documents like certificates, exam results, and recommendation letters.
All qualified candidates are urged to submit applications for admission to the University of Sargodha.   Please bear in mind to submit your registration by February 20, 2023.
University of Sargodha Spring Admissions 2023
The University of Sargodha has offered different courses for Spring admissions. We will discuss these courses in this article. The last date to apply is 20 February 2023. The university provides an excellent environment for learning. It is highly disciplined, and the security is perfect. So, if you want a promising career and growth as a human being, SU is a great place.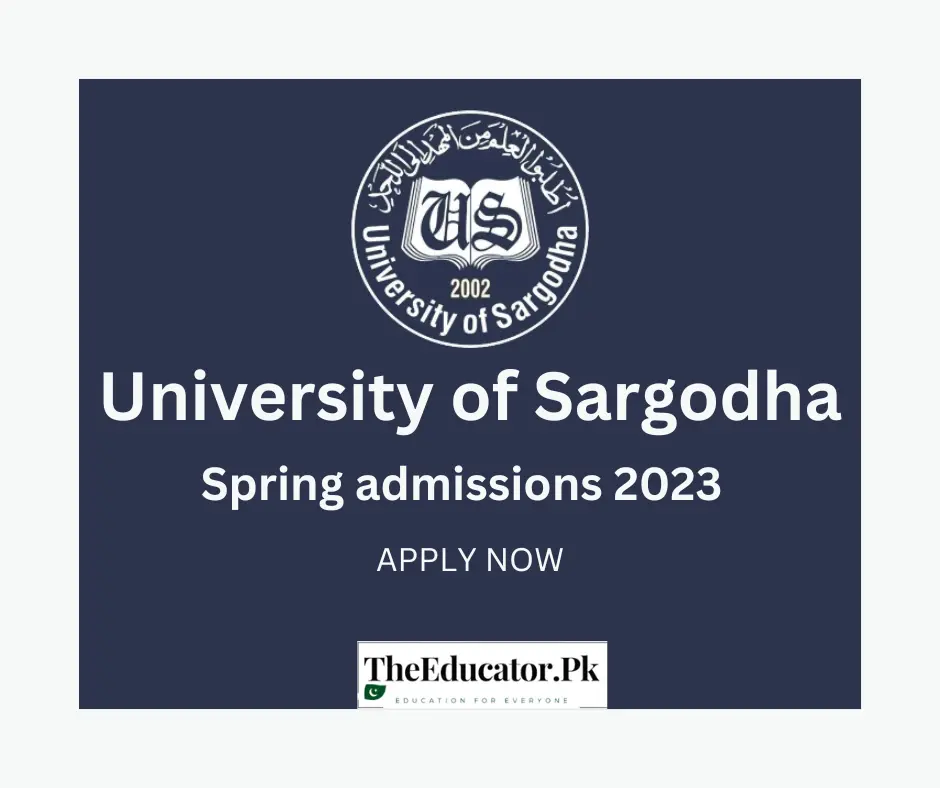 So, let's start with the courses offered
Courses offered
Various courses are offered in undergraduate and postgraduate programs. Let's see a summary of it. You can see the detailed courses in the advertisement.
Faculty of science
BS Chemistry
BS Botany
BS IT
BS Math
BS Geography
M.Phil Math
BS Physics
BS Stats
Ph.D. Stats
BS Zoology
Faculty of Engineering
MSc Electrical Engineering
Sc Mechanical Engineering
Faculty of Pharmacy
M.Phil Pharmaceutical Chemistry
Faculty of Agriculture
MSc (Hons) Agricultural Extension
Ph.D. Agricultural Extension
MSc (Hons) Agronomy
Ph.D. Agronomy
Faculty of Arts and Humanities
BS Urdu
BS Media and Communication Studies (4-year)
BS English
BS Information Management
You can see the detail in the following advertisement.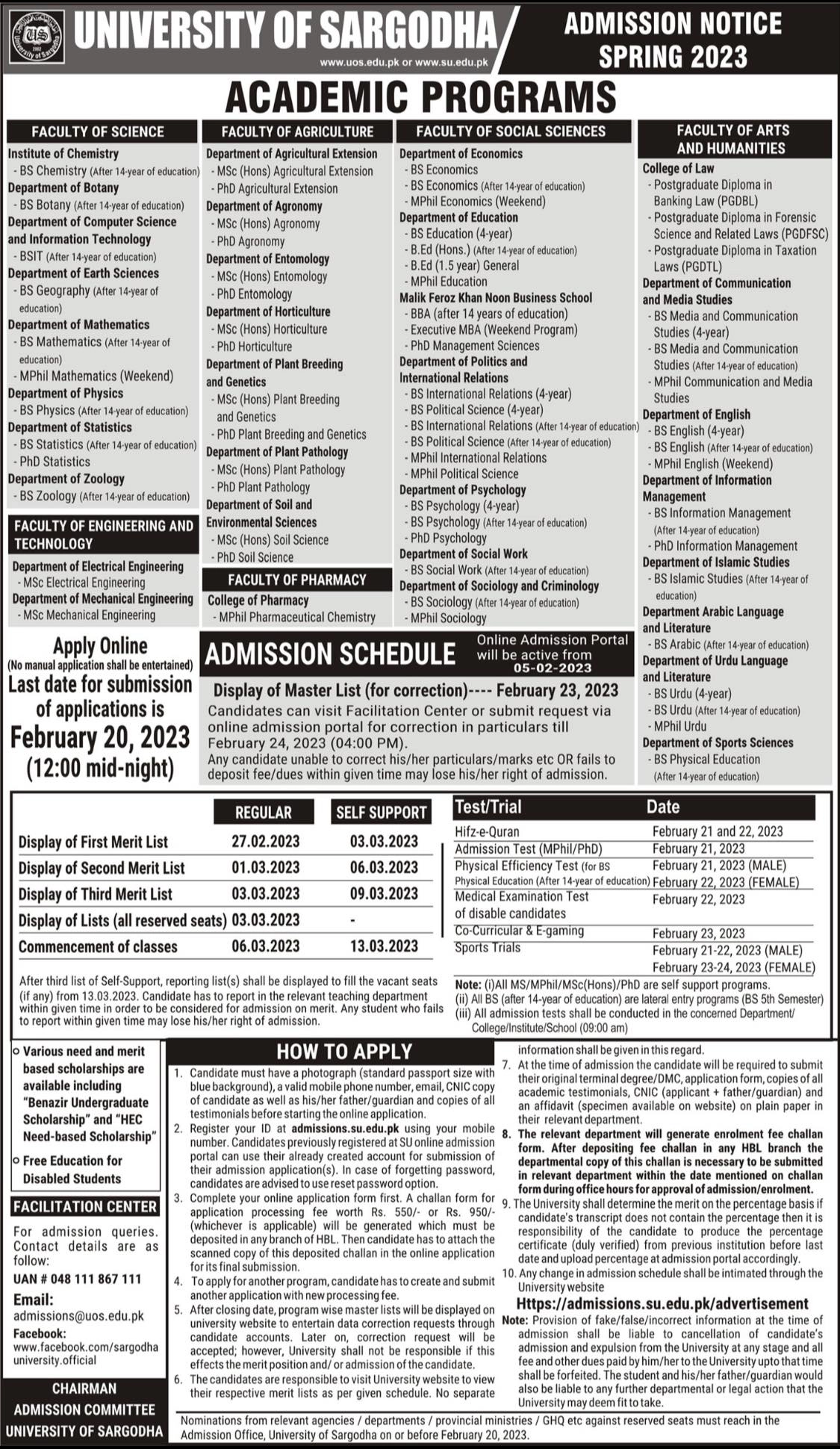 Admission schedule
You should note down these critical details.
ADMISSION SCHEDULE
Admission open
5-Feb-23
Last date
20-Feb-23
Display of Master list
23-Feb-23
Last date to apply for corrections
24-Feb-23
Hifz-e-Quran Test
21-22 February 2023
Admission test for Ph.D. and M.Phil
21-Feb-23
Physical Efficiency test
Male: 21 February 2023
Female: 22 February 2023
Medical Test for disabled Candidates
22-Feb-23
Co-curricular and E-gaming
23-Feb-23
Sports trials
Male: 21-22 February 2023
Female: 23-24 February 2023
MERIT LISTS
First list
Regular
Self-Finance
2nd List
27-Feb-23
3-Mar-23
3rd list
1-Mar-23
6-Mar-23
Reserved seats
3-Mar-23
Start of classes
6-Mar-23
13-Mar-23
How to apply
Before you apply, you must have some documents. These are as follows
Passport size photo
CNIC
Mobile number
Email address
CNIC of father or any other guardian
Copies of all the certifications and DMCs
Now that you have all these documents, you must follow these simple instructions to apply for admission.
Create an account on the admission portal open since 5 February 2023
Fill out the online form
Pay the challan fee at HBL
Attach a scanned copy of this challan fee with the online application form
If you wish to apply to another program as well, fill out another application form and repeat the entire process till step number 4
The master list will be uploaded; candidate can see that list and apply for any changes in the form. Failure to do so will result in the finalization of the application form. After this, the university will not be responsible for your errors and mistakes.
Procedure after admission
If you are successful in securing admission, then congratulations. Once you are successful, you must follow the instructions given below.
Submit original documents such as certificates, DMCs, copies of CNIC, and an affidavit to the concerned department
The department will issue a challan form
Pay it in HBL bank
Submit the department copy in the department.
Contact details
In case of any questions or complaints, the candidate can contact the following sources.
Facilitation center
Number
048 111 867111
Email
[email protected]
Social media
www.facebook.com/sargodha university. official
Conclusion
Finally, the University of Sargodha is already accepting applications for spring enrollment for the academic year 2023. Applications will be taken for both graduate and undergraduate degrees at the institution. The online registration platform will be open on February 5, 2023, with the submission deadline on February 20, 2023. The University of Sargodha is a well-known university noted for its high-quality teaching and research and provides a diverse selection of courses in various subjects. We urge all qualified students to submit applications for enrollment and hope them the best of luck in their academic endeavors.
Frequently Asked Questions
In case of any confusion, you can read this section.
What is the last date to apply to Sargodha University?
The last date to apply is 20 February 2023
Are admissions open at the University of Sargodha?
Yes, the admissions in the Spring semester are open
Is UOS public or private?
It is a public sector or government university.