10th Class Date Sheet 2023
You are at the right place if you are looking for the date sheet 2023 for class 10. We will keep you updated regarding the new updates. Once the date sheet is available, we will upload it here.
The purpose of exams is to provide students with a common platform to demonstrate their strength and knowledge of a particular subject. Without exams, it would be nearly impossible to assess the level of learning among students.
Students will review the date sheet and prepare their schedules when the date sheet arrives for the annual examination in the 10th class.
Related:- 9th Class Date Sheet 2023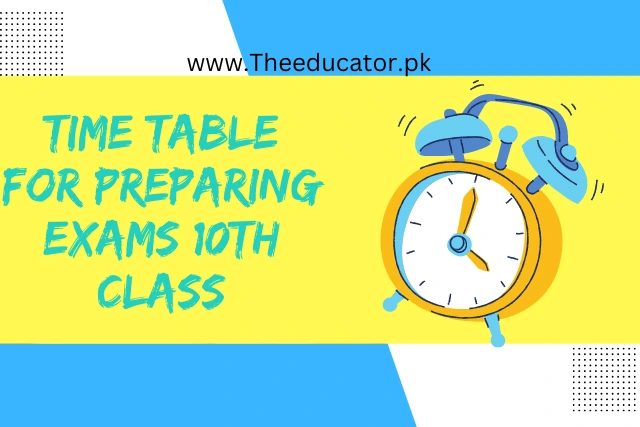 Several boards in Punjab will have their own date sheets; these will not be the same. Each board will have a different time for taking the 10th class final examination. 
Mostly, matric exams are scheduled to begin in the first week of March and end in April each year. 
The 10th class students will be waiting for the date sheet (also the 9th class date sheet) and will make their timetable according to their study schedule, how much other work they must do, and how much rest they require.  
10th Class consists of the following subjects
Physic

English

Chemistry

Urdu

Math

Pak Study

Computer/Biology

Islamiat
Date Sheet of 10th class for all BISE Boards

BISE Lahore
Date Sheet of Multan Board
10th class date sheet Bhawalpur Board
BISE Faisalabad
Date Sheet of 10th class Sahiwal Board
BISE Sargodha
BISE Gujranwala
BISE Rawalpindi
Date Sheet Of 10th Class D.G.Khan Board
Federal board date sheet 10th class
10th Class Guess Papers
Exams are very challenging, but they are important. There may be no point in studying hard if one is going to fail in subjects during the exams. A guess paper will act as a guide and learning tool.
The student's past papers, solutions, and questions from the examination are included in a guess paper. Having these documents helps the student better prepare for the exam and gain knowledge about the subject. 
Read:- Matric Supplementary Result
An educational institution's exam preparation is its backbone, which is the case with all of today's colleges and universities. To track students' progress and help them improve their weak areas, instructors conduct tests now and then to assess their aptitude and overall performance.
The importance of guess papers cannot be understated. Guess papers are essential for any student, especially those preparing for exams.
10th class Pairing Scheme in PDF                                                                   Download

Math

Guess Paper Of 10th class in PDF                                                         Download
10th Class Guess Paper Of

Chemistry

in PDF                                                 Download
Guess Paper Of 10th class Of

Physic

in PDF                                                   Download
Tenth Class Guess papers of

Biology

in PDF                                                  Download
10th

Pak-Study

Guess Papers in PDF                                                             Download
Guess Paper of 10th class

Islamiayt

in PDF                                                    Download
10th class Guess Paper of

Computer

in pdf                                                   Download 
I hope this article will benefit the students in the 10th grade of all Punjab boards who are looking for information such as the date sheet of the 10th grade and the results of the 10th grade, as well as other details.