Matric Result 2023 Multan Board – Check By Name & Roll No
Maric Result 2023 Multan Board will be declared on 31 July 2023. Scroll Down to Check the Result by entering Your Roll No.
In this article, we will tell you everything about the results regarding the Multan board. The students affiliated with this board are hardworking and have been getting positions in the Punjab board results all the time.
Related: Schedule for Matric and Intermediate Exams 2024 Announced
This time, it is a high chance that students will perform well. They are the headquarters of education boards in South Punjab, which also comes with many expectations. Hopefully, they will fulfil these expectations.
Check:- 12th Class 2023 Result
Let's get straight into our topic, Multan board class 9 results 2023, without wasting more time.
Has the Multan board announced the 2023 results?
Bise Multan Matric 2023 Result Date is 31 July 2023.
Read:- DG Khan Board 2023 result matric
According to the Latest Official Source, all the Punjab Boards' 10th class results will be announced on 31 July 2023, so all Punjab boards are responsible for declaring the result. So For 10th class students, this platform will be the best for knowing results in detail.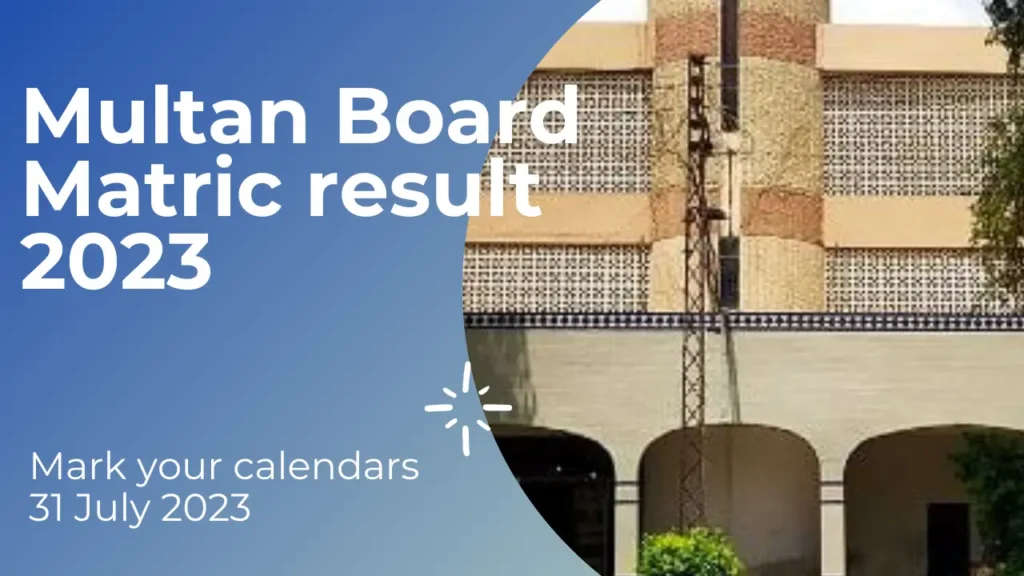 Read:- AIOU 2023 Result Check By Roll No
We understand that students are getting anxious about their results. But let me ask this question, does this achieve anything? Students have taken the exams; now they can't do anything about it. What has happened, has happened. You cannot change the past.
Read:- Multan Board 2023 Matric Gazette
But you can live in the present and work for the future. So focus on the intermediate classes and work diligently with grit and passion.
What are passing marks in BISE Multan?
The Passing criteria are updated. Now Passing Percentage is 40.
Read:- Faisalabad Board Matric Result 2023 Check Online
Previously, the passing criterion was 33%. But now, the boards have announced that the passing marks will be 40%. They took this step to increase the quality of education in Pakistan. And this step was implemented all over Pakistan.
This means you could pass the subject if you took 33/100 marks in the exams. But now, you must take 40/100 to clear that subject. Let me give you a more clear example.
If you take 30/75 marks at least, you will pass the exam. Otherwise, you must clear this subject in the second annual exam.
Do you want me to tell you more about the second annual or the supplementary exams? We will discuss it in the blog shortly. So keep reading.
Read:- Sahiwal Board 10th Class Result 2023
Position Multan Board 2023
As expected, Multan board students did pretty well last year. The students scored well in both Arts and Science groups. Let's discuss both of these results.
For Science
Just look at how these students have achieved such high marks. I mean, scoring 1090 out of 1100 is phenomenal. Mahak Munir, BISE Multan is proud of you.
These students have bright prospects once they get admission to colleges and academies. Perks such as no fee at all and scholarships are on their way.
| Name | Marks | Roll number |
| --- | --- | --- |
| Mahak Munir | 1090 | 165725 |
| M. Zeeshan Shahzad | 1089 | 141280 |
| Ammara Akhtar | 1088 | 162483 |
For Arts
Arts group is often looked down upon in our society. But these students have broken that wheel and have performed very well. These marks are excellent because these students do not get as much guidance as the science group students.
Most of these students are eyeing competitive exams such as CSS and PPSC. Through these exams, students can enter this country's bureaucracy. You might be looking at a future commissioner or an ambassador on this list.
| Name | Marks | Roll number |
| --- | --- | --- |
| Umm-E-Hani | 1068 | 209067 |
| Alia Altaf | 1058 | 350585 |
| Qurrat Ul Ain | 1051 | 202753 |
How to check the Bise Multan Results?
Checking the result is easy as well. All you have to do is follow these simple steps. We are sure that you checked your result the last time as well. If you have prior experience, this will be a piece of cake for you. This is nothing different from the last time. Just follow these simple steps.
Read:- Matric result 2023 Bahwalpur Board
[su_table]
| | |
| --- | --- |
| Result | 10 Class 2023 |
| Boards | Multan Bise |
| Total Students | 55000 |
| Result Date | 31 July 2023 |
| Result Announcement Time | 10:00 AM |
[/su_table]
Visit the BISE Multan website.
Go to the results section.
Now, select Matric.
After this, select
Type roll number
Click ENTER button
Your result will appear on the screen.
But there are other ways you can check your result. For example, you can also check your result by name and SMS. Here is a short tutorial on how to use these methods to check your 9th class result.
Check Multan matric results by name.
Follow these steps to check your result.
First, visit BISE Multan's official website.
Then, download the gazette file from there
Open the file
Click CTRL F
Enter your name and find it among the results.
Check your BISE Multan 10th class result by SMS.
Checking your results by name was easy, right? But here is another easy 6-step method.
| Serial number | Instructions |
| --- | --- |
| 1 | Open your phone's inbox |
| 2 | Compose a new message |
| 3 | Enter your roll numebr |
| 4 | Send this message to BISE Multan's code |
| 5 | Enter your roll number |
| 6 | Wait for the result. |
How can I clear the failed subjects?
This can be a pain point for a lot of students as well. Some cannot clear subjects like Physics, Chemistry, Biology, or Maths.
But don't worry, after 31 July 2023, BISE Multan will announce the schedule for a second annual exam. Those students who could not clear their subjects in the 9th or 10th class exams have another chance now.
It all comes down to how much you want to work hard for your result this time. Do not let it go, and give your best. Because if you won't, you will always regret that you could not make it.
Conclusion
The multan board announced the results on 31 July 2023. It is time to see how well you did in your studies. The results will be out after 11 AM. So marks your calendars. We have told you how to check your results and what you can do if you fail any subject.
This year, Multan's result was the best. However, some students fail as well. Those students are now waiting for their matric results. The authorities have announced the date. But do not worry. We have a whole team of dedicated writers who are working for you. All you have to do is check our website regularly.
Read:- 10th Class Result 2023 Rawalpindi Board
Best wishes from the team "The Educator." We wish you best of luck in your future endeavours. If you feel like you need an advice from an older brother, hit us up.
Turn on our notifications for more news and updates regarding education, exams, and jobs. We frequently update our website with new content to help you all.
FAQs
What is the date of the 10th Class result Multan board?
The date of the results is 31 July 2023.
Is Matric's result announced?
The Matric Result 2023 Will Be Announced on 31 July.
How can I get my Matric results by SMS?
You can send your roll number to 9818
Can I get Matric results in the newspaper?
No, the regular results are not published in newspapers.
You can ask any question related to Matric Resuly 2023 Bise Multan Board Here.