Toppers of 10th class 2023 DG Khan
The students in DG Khan are waiting for the matric results in 2023, while the board has announced the toppers for this year. It is phenomenal to see how the students have performed this year. Working this hard to score high is a big feat. It is not just about the result; it is about the journey as well.
Related: 9th class result 2023 DG Khan Board
This article will tell you who these toppers are and how they achieved this feat in their 10th-class exams. It is a long and bumpy ride, so hop on and witness what you can learn from these students.
Read: DG Khan Board 2023 Matric Result – Check Result By Name and Roll Number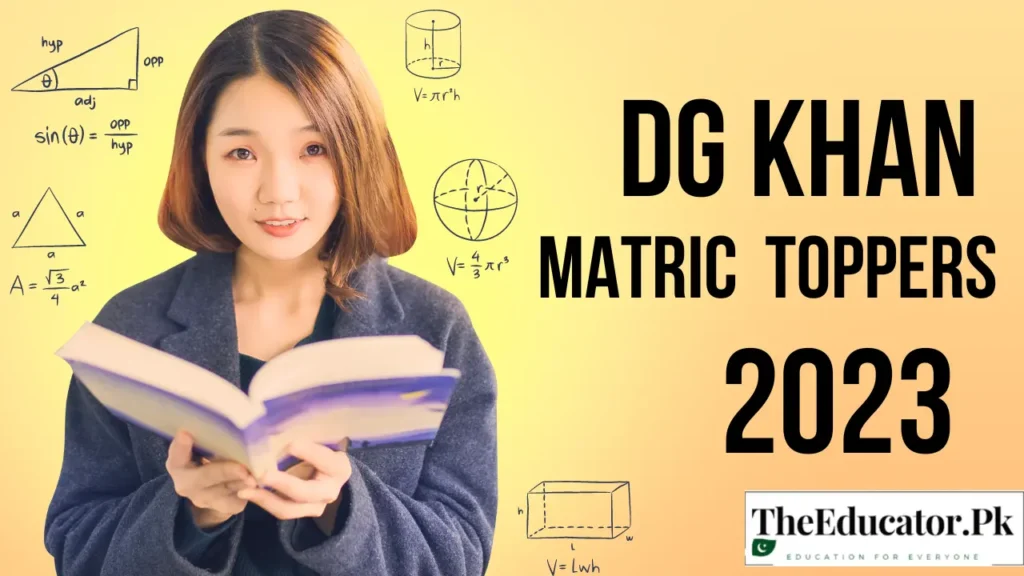 BISE DG Khan Matric Position holders [Announced]
So, let's see how the students from the DG Khan board did this time.
| | | |
| --- | --- | --- |
| 1st | M Hassan Bhutta | 1096 |
| 2nd | Rania Mujahid | 1095 |
| 3rd | Sanabil Hassan | 1094 |
| 3rd | Syed Afnan Haider | 1094 |
As you can see, the students have performed well. Scoring this much out of 1100 is a whole other feat. In the past, students didn't score this much.
But due to the increasing competition and awareness, the students are well-equipped and know how to score more.
For example, we write a lot about this topic. You can read about it here.
Read: How to Attempt Paper Like A Topper – FBISE Reveals the Secret
Final worlds
These are the students that scored well this year. We will keep bringing you news from all the other boards as well. Don't forget, the 9th class result is also around the corner. The boards will announce the results on 22 August 2023.
For now, matric students can check their results on 31 July 2023. You can read about how to check the results from our articles. The link is in the introduction paragraphs.
Turn on our notifications for more information on education, exams, and jobs. We frequently update our website with new content to help you all.
Frequently Asked Questions
How to check BISE DG Khan matric results by name?
You can download the gazette file and check your name there.
Where to check the results online?
You can check your results online on the board's website.
When does the board announce toppers?
The board announces the toppers one day before the regular result.
Do the toppers get scholarships?
Yes, the position holders get scholarships.