BISE Faisalabad matric position holders 2023
If you want to see who was the class 10 topper in Faisalabad, you are in the right spot. This website announces all the results before you can get them anywhere else.
Check:- 9th Class 2023 result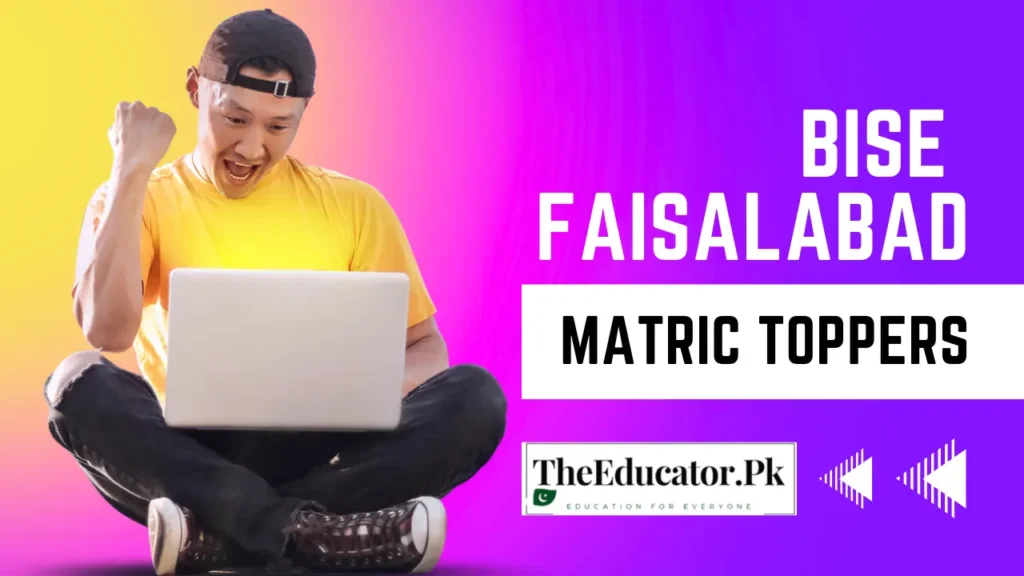 Read: Matric Result 2023 Faisalabad Board – By Name & Roll No
The board has announced the toppers for matric exams 2023. All you have to do is read this article to know who are the most talented students in Faisalabad.
Related: Matric Result 2023 – By Name and Roll Number
Here are the students who are the position holders in Faisalabad this year.
Position
Name
Marks
(Total = 1100)
1st
M. Umar Farooq
1093
1st
M. Zaid Tariq
1093
2nd
Musharib Fatima
1092
2nd
Saba Tahira
1092
2nd
Memoona Kousar
1092
2nd
Arooj Fatima
1092
3rd
Samana Zainab
1091
3rd
M. Ali Rehan
1091
3rd
M. Hassan Junaid
1091
5 steps to Become a position holder in BISE Faisalabad
"Not everyone can become a board topper." You will disagree with this line if you have seen the board toppers this year. You can become a board topper if you work hard enough. The first position is for the grab for everyone. All you have to do is work consistently and follow these 5 steps.
READ: Matric Result 2023 Multan Board – Check By Name & Roll No
Clear your concepts.
Work each day consistently.
Practice your knowledge with model papers
Prepare for final exams using past papers and pairing schemes
Study what the paper checkers want in an answer sheet. Read this article to know more: How to Attempt Paper Like A Topper – FBISE Reveals the Secret
Conclusion – BISE Faisalabad matric position holders announced
The boards are going to announce the matric results on 31 July. But they have announced the toppers beforehand. They do this so that they can celebrate these students. You will be able to see a press release in your local newspaper as well. Wait for it.
Check: DG Khan Board 2023 Matric Result – Check Result By Name and Roll Number
Frequently Asked Questions
What is the date of matric result 2023?
The result date is 31 July 2023.
What does Bise Faisalabad stand for?
It stands for "Board of Intermediate and Secondary Education, Faisalabad."
Who is Chairman Bise Faisalabad?
Dr. Tayybah Shaheen is the chairman of this board.
Is Punjab Board 10th Result Declared 2023?
No, they will declare the results on the result date. The date and time is 31 July 2023 at 10 AM.
What is the passing marks for FSD board exam?
The passing marks are 40%
What is the pass mark out of 100?
You have to score 40/100 to pass.
Also, Turn on the notifications to get all the updates regarding jobs, admissions, exams, and results.