BISE Sahiwal matric toppers 2023
Students are waiting for the matric results of 2023, while the newly-formed Sahiwal board has announced the 10th-class toppers. All the people are in awe as the students have scored this much. The situation is getting insane with each passing year. The students are finally cracking the code to how they can score maximum marks in the board exams.
Related: Result 2023 BISE Sahiwal Matric- Check By Name & Roll No
In this article, we will talk about how you score this much in the board exams and the elephant in the room. And that is the toppers this year.
Read: Matric Result 2023 – By Name and Roll Number
So without any further ado, let's get right into it.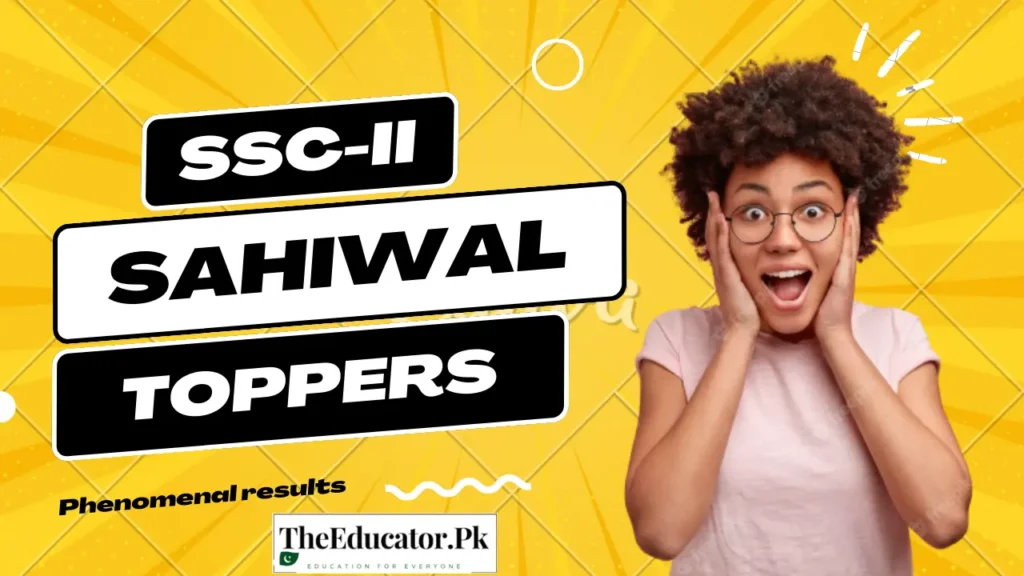 Sahiwal board matric toppers
So, here are the shining stars we will discuss in this article. We bet you will be amazed by their obtained marks in the board exams.
Let's have a look.
| | | |
| --- | --- | --- |
| 1st | Muhammad Nasr | 1093 |
| 2nd | Aman Waqar | 1092 |
| 2nd | Ambar Munir | 1092 |
| 2nd | M Nabeel Arshad | 1092 |
| 3rd | Sakina Munir | 1091 |
| 3rd | Fatima Sarwar | 1091 |
As you can see, scoring 1090+ marks and having a tie in 2nd and 3rd positions like this is unheard of. But due to policy changes since 2018, the boards have started to grant more marks.
Read: Matric Result 2023 Multan Board – Check By Name & Roll No
Final words
So, how did these students achieve this score? The answer lies in their hard work and working smartly. Doing all the donkey work can only get you so far. But you can become a board topper if you implement techniques like shortlisting and using part papers and pairing schemes. Do you want to hear more from us? Turn on the notifications so that you will get all the updates regarding jobs, admissions, exams, and results.
Frequently Asked Questions
What is the name of the board of Sahiwal?
The name of this board is "Board of Intermediate and Secondary Education, Sahiwal."
Which board is for Vehari?
BISE Multan caters to these students.
What board is in Pakistan?
There are almost 9 education boards in Punjab, Pakistan. BISE Sahiwal is one of them.
Which is the toughest board in Pakistan?
The toughest board is the Federal board.