Toppers of 10th class 2023 Multan
The Multan board has announced the position holders for class 10. Students have performed well in 2023. A good performance is always expected from the students in Multan Board. BISE Multan is almost synonymous with the headquarters for the education boards in South Punjab. That is why students and teachers from the region compare their results with Multan.
Do you know: The 2023 multan board 1st year result just got announced.
It was unreal to see how the topper from the Multan board scored this much. It felt as unreal as watching Shahid Afridi hit sixers and fours on the pitch.
You will get to read more about the news. Continue scrolling.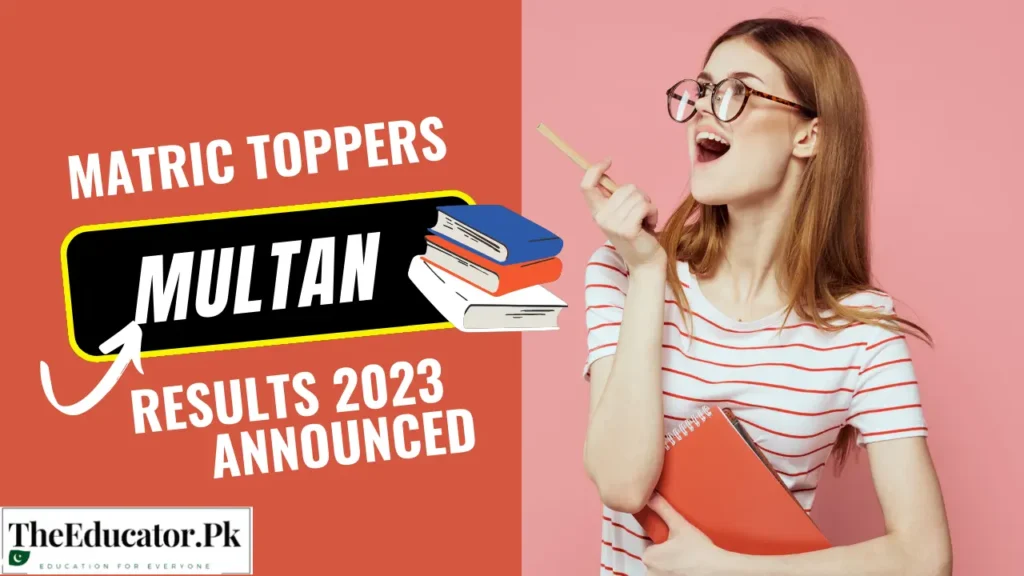 Who are the 10th-class toppers in Multan this year?
Here are the toppers from the Multan board. Seeing how so many students could tie for 2nd and 3rd places was astonishing. This shows how tough the competition is and how the students in Multan are the benchmark of performance in South Punjab.
| | | |
| --- | --- | --- |
| 1st | Khadija Fatma | 1096 |
| 2nd | Mishal Babar | 1095 |
| 2nd | Fiza Waseem | 1095 |
| 2nd | Hussnain Raza | 1095 |
| 2nd | Zarlish Fatima | 1095 |
| 2nd | Haifza Ayesha Masood | 1095 |
| 2nd | Laiba Jabbar | 1095 |
| 3rd | Rohish Munwar | 1094 |
| 3rd | Ayesha Muslim | 1094 |
| 3rd | Syeda Fizza Shehzad | 1094 |
| 3rd | Shifa Noor | 1094 |
| 3rd | Syed Arbish Ali Shah | 1094 |
| 3rd | Tehreem Rashid | 1094 |
Final words
You have to remember that these students didn't show this performance out of the blue. Children keep working hard, and they keep doing it consistently. You start working and studying on day 1 and never miss a day.
This is what it takes to be a board topper. You must dedicate yourself to your studies and have the right balance between your personal life and education. This is the only way you can show this sort of result.
Turn on our notifications for more information on education, exams, and jobs. We frequently update our website with new content to help you all.
Frequently Asked Questions
How to download the BISE Multan result card?
You can get the original result card from your school or BISE Multan's head office. But you can get your detailed marks from the online result portal.
How to check BISE Multan result by name?
You can do this by downloading the gazette from Multan board's website.
When does the board announces toppers?
BISE Multan announces the toppers one day before the regular results at least.