Matric Result 2023 Bahawalpur Board – Check Result By Name and Roll Number
You can check matric result by Roll No. The Bis Bahawalpur 10 class Result 2023 Bahawalpur Board is announced.
Scroll below to Check.
Here You can Check the Annual Result by Name And Roll number. According to the officials, the Lahore Board 10 class Result and Rawalpindi Board Matric results are announced. The Faisalabad Board Matric Result will also be announced.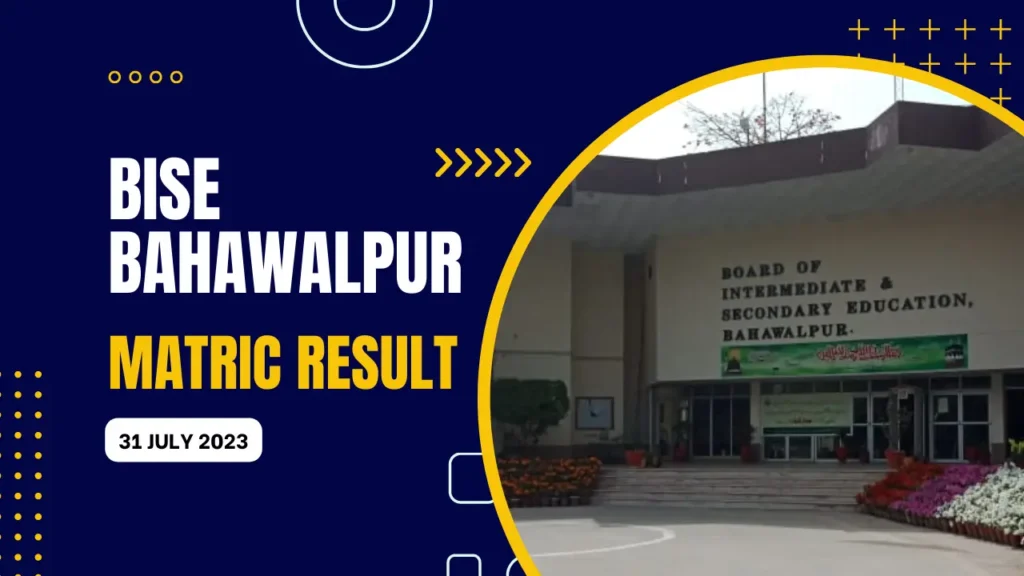 If you are searching for matric results, this will be the best place for all of you. As all of you know, all the Punjab Boards, the result of the 10th class will be announced every year in July, so all Punjab boards are responsible for declaring the result.
Check:- 12th Class 2023 Result
So for 10th-class students, this platform will be the best for knowing results in detail. But what about the supplementary exam results? In this article, we will be talking about that as well. So stay tuned.
Read:- 10th Class Result 2023 Multan Board.
When will BISE Bahawalpur Exam results 2023?
Bahawalpur board will announce the results on 31 July 2023. The PBCC held a meeting and agreed upon this date for the matric results 2023. They have also decided the date for the 9th class results in 2023. To know more about this, you can click on the following link.
Read: Schedule for Matric and Intermediate Exams 2024 Announced
Anyhow, the stage for this year's results is set. All you have to do is wait until 31 July. Start and countdown and do other valuable things. For example, you can learn new skills, start studying the syllabus for intermediate exams, or decide what you want to do in Fsc.
Read:- 9th Class Result 2023
Career counseling is a step students often forget about. But this is one step that can change the course of your life.
It can transform your career pathway and can severely improve the quality of your personal and professional life. While we cannot do detailed career counseling, we can provide some information.
Later in this article, we have a detailed guide stating the scope of different lines in the science group. So keep reading.
When will BISE Bahawalpur Announce the Matric Position holders in 2023?
It has been a trend in the Punjab boards and educational boards all around the country that they announce the results of position holders one day before the normal result.
The results are announced on digital as well as print media. Boards make it a point to announce the success of their students. It has various purposes. First and foremost, it is to encourage the position holders as they are the face of that board.
Read;- Sahiwal Board result 2023 Matric
Then it is to encourage education among young children and promote education. Can you imagine the impact of it when someone who doesn't send their children to school sees this? It has some positive impact.
But how does the holder know they have achieved a position on the board? Let's read the next section to check out how.
Check:- Matric Result 2023 Gujranwala Board
How can Position holders check their results?
We all know that boards announce their position holders via digital and print media. But have you ever asked yourself how BISE Bahawalpur breaks the news to the position holders? How does a position holder know of this achievement?
Well, it is no rocket science that the board contacts the position holder beforehand. After all, they also have to attend the ceremony in the board office.
In that ceremony, BISE authorities also present the students with shields and cash prizes. Some boards even take them on field trips as well.
Check:- Sarghodha Board Result 2023
But how can other students check their results? Here is a summary.
By roll number
-Visit BISE Bahawalpur website.
-Enter your roll number in the search bar.
-Press the ENTER button.
By SMS
-Open your phone.
-Turn your SMS app open.
-Type your roll number.
-Send this to Bahawalpur board's code.
By name
-Download the gazette.
-Open the file and search bar through the CTRL F command.
-Type your exact name and find your result.
What to do after matric results?
After the students complete their matric exams, they must make a very important decision. And this decision is what group to choose for the intermediate. In matric, you could study maths and biology at the same time. But not anymore.
Now, the science students have to choose either of the mentioned groups.
Physics, Chemistry, Biology. (pre-medical)
Physics, Chemistry, Maths. (pre-engineering)
Physics, Computer, Maths. (ICS)
Let's discuss the scope of each of these so you can decide.
Scope of pre-medical
If you want to study in MBBS or BDS, this is the field you want to go for. But if you are not interested in these degrees, there are other medical-related degrees you can opt for.
For example, you can go for Pharm-D, DVM, MLT, DPT, and HND. Other than these, other allied health sciences have huge scope in the medical field.
You can choose to nurse as well. Nurses play a huge role in our health system and are the backbone of our hospitals. Besides, you will be respected and well-paid in other countries.
Scope of pre-engineering
If you think you want to become an engineer and fix the problems companies and industries face in many different fields, this is where you want to be.
Whether mechanical or chemical engineering, industries need such qualified personnel. The field is too diverse to fit in this small article. So tell us in the comments if we should do an article about it.
Scope of ICS
It is the era of AI and computers. If you know these things, I bet you are making money even without a college degree. The potential it has for now is insane.
I will especially recommend AI to young students. Because as you graduate, AI will be ruling the tech space.
Final words
The board is going to announce the results on 31 July. So if you want to check your results, get ready and mark your calendars. This is an important date for you. After this day, you will have a lot of clarity.
Students can read the blog and decide what they want to do in their academic careers. The decision is all yours. But whatever it is, we will always be guiding you. All we want from you is you support us by sharing our content
Turn on our notifications for more news and updates regarding education, exams, and jobs. We frequently update our website with new content to help you all.
Frequently Asked Questions – FAQs
How can I take the supplementary exam?
If you have failed a subject, you must apply for the exam. Then you can take it.
What are the passing marks for the supplementary exams?
Passing marks for this exam is the same as the normal exams. You have to get 33% marks at least.
What are the benefits of getting a position?
The board gives you a lot of perks, such as cash prizes and scholarships. But the colleges may also give you special treatment.
How can I check my 10th class result by roll number?
You can go to the website, enter your roll number and click the search button. This way, you will get your result.
What is the date of matric results in 2023?
The result will be out on 31 July 2023.
How can I contact the Bahawalpur board?
You can contact them here: 062-9255086.
How many marks are there in matric this year?
The total marks in matric are 1100.
What is the postal code of Bahawalpur?
The postal code is: 63100