BISE Sargodha 10th class 2023 position holders
BISE Sargodha has announced the toppers and position holders for the year 2023. Students took their exams back in March and April. The board will announce the official results on 31 July 2023. But the board has announced the toppers already. If you want to see how the Sargodha students performed in this year's exams, see this table.
Related: Matric Result by Roll Number
| | | |
| --- | --- | --- |
| 1st | Wadia Zainab | 1095 |
| 2nd | Anoosha Hameed | 1094 |
| 3rd | Uswa Bint e Azhar | 1093 |
Sargodha board toppers 2023
Read: Sargodha Board Result 2023 Matric – By Name & Roll No
These students worked hard to be where they are right now. The students in the Sargodha board have always done pretty well like this. Just look at the total marks the number one position has obtained. You will get a clear picture of the sort of talent they have in this area.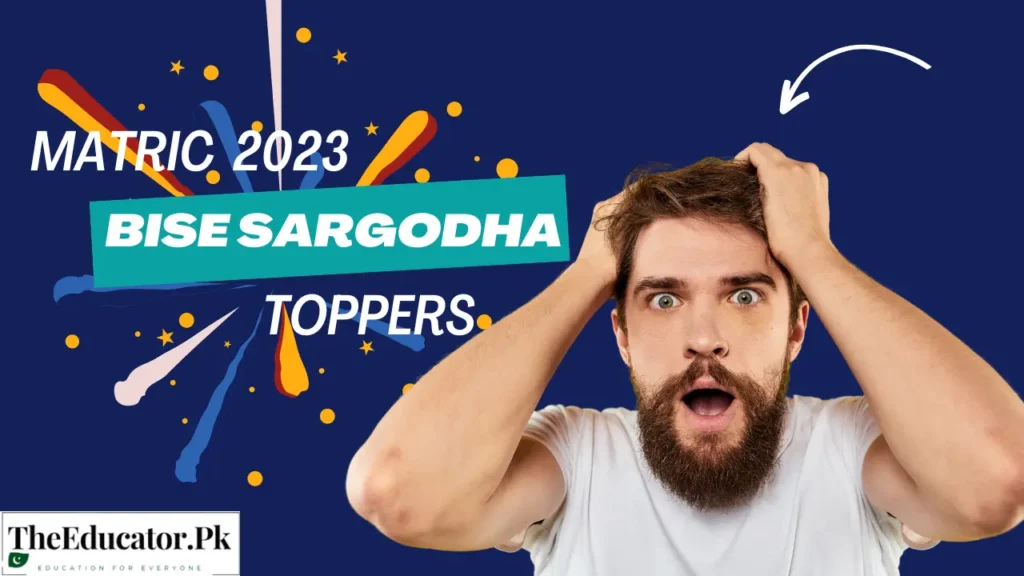 What are the benefits toppers get?
Board toppers get a lot of perks, not only from the board but also from colleges and academies. Here are just some of the advantages.
Scholarships: All the academies and colleges look out for recruiting these students. That is why they offer them lucrative scholarships.
Trips: The board takes these students on trips to the northern areas.
Respect and reputation: These students get a lot of respect anywhere they go.
Confidence: The confidence you get after getting this protocol is pretty good.
You can also check 9th Class result 2023 Sarghodha Board as well.
Final words
It takes a lot of hard work and perseverance to achieve success. And these students have achieved it all. Now it is time for you to take inspiration from them and get your desired scores. All you have to do is immerse yourself in your studies. Do you want to hear more from us? Turn on the notifications so that you will get all the updates regarding jobs, admissions, exams, and results.
Frequently Asked Questions – FAQs
How many marks are there on the 10th-class Sargodha board?
Total marks are 1100.
Which student got the highest marks in the 10th class?
The topper got 1095 marks
How many marks are best in the 10th class?
Anything above 95% is best.
What is the pass mark out of 100?
The passing marks in BISE Sargodha are 40/100.
What is the pass mark for Sargodha Board?
The passing marks are 40%.
What is the 10th class in Pakistan?
The class 10 is also called Matric or SSC part 2.