MDCAT 2023: When will you get the Admit card?
The University of Health Sciences recently announced when the students will get admit cards. Admit card or Admittance card is very important to an MDCAT candidate. You cannot even enter the exam hall without this roll number slip. That is why it is essential that you bring a colored copy of this admit card along with you.
Read: PMDC: MDCAT 2023 Delayed
When will you get this admit card? Well, the VC of UHS has made this announcement recently. Students can download their new admit cards on 25 August 2023.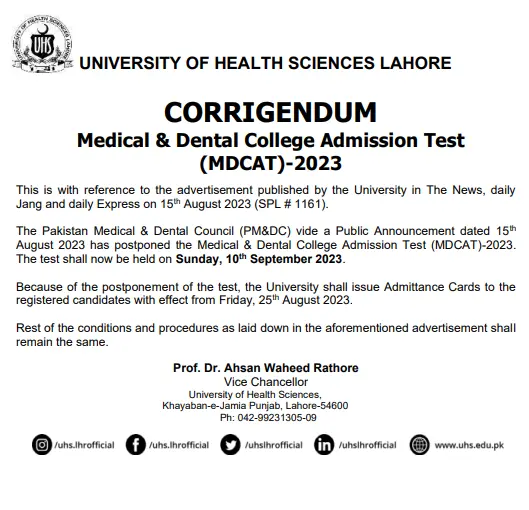 Keep in mind that the test was rescheduled to 10 September 2023. Before this, PMDC was conducting the test on 27 August 2023. But due to immense social media pressure from the students, they had to change the date of this test.
Read: MDCAT 2023 Registration [Online Portal]
Now, students have two more weeks to make up for their weaknesses. It is an excellent opportunity for the students to hone their skills, clear their concepts, practice MCQs, and prepare for MDCAT.
Students can also study from past papers. As far as the logical reasoning questions are concerned, only more practice can save you. You have to practice as much as you can. But always remember this, you must always be calm and composed while analyzing. Panicking will never get you to the correct answers.
So, get ready to download your admit cards on 25 August 2023. These roll number slips or admit cards will have all the information regarding your roll number, picture, the instructions for the day of the test, and what to bring and what not to bring.
It is an important document and a passport for the students to enter the exam center. Make sure you have it. Bring a colored copy, and do not write anything on it. It should be neat and clean.
Best of luck with your MDCAT; we hope you score as high as you want.