Islamia University Bahawalpur (IUB) Admissions in BS Programs 2023
The Islamia University Bahawalpur has announced admissions in various undergraduate degree programs. So if you want admission to this pristine university, you can apply before 15 August 2023.
Read: University of Education merit lists announced
Yes, the last date to apply is 15 August. You have to apply before that. We will tell you how you can apply to the university and what is the admission schedule. This article will also contain information about different departments. So without any further delay, let's get right into it.
Check: Punjab University (PU) Admissions 2023 – Merit lists [Announced]
IUB Admissions 2023 Schedule
Here is a rough schedule for IUB admissions. The last date to apply is 15 August. So prepare your documents and pay the fee if your name appears in the merit lists.
The classes will start on 1 September. So, you can start your academic journey from that day.
| | |
| --- | --- |
| Deadline | 15 August 2023 |
| Commencement of classes | 1 September 2023 |
The merit lists will be displayed on the official website. We will keep you updated as soon as the merit lists are announced. Turn on the notifications from us.
How to apply to Islamia University Bahawalpur (IUB)?
Now, let's talk about how to apply to IUB. Follow my instructions carefully and get a chance to study in one of the most celebrated institutes in South Punjab. You have to visit eportal.iub.edu.pk to register yourself online.
Register on the mentioned website.
Give correct information in the application form online.
Generate the challan form and print it out.
Pay the challan at your nearest HBL branch.
You must generate a separate challan form if you apply to multiple programs.
You can also edit your information. But try to do it before paying the challan fee.
Check your application status online.
If your name comes up in the merit list, take your original document and come to the relevant department for further processing.
Important details
The following are some important details. All the candidates should read them.
Individuals with a BA/BSc. or Associate Degree are eligible for admission into the 5th semester of BS programs.
Students who have completed their first or third year can apply for admission to all programs.
The merit calculation will be based on marks obtained in the first and third years.
Second or fourth-year results don't impact merit calculation, but meeting eligibility criteria is necessary.
LAT is compulsory for LLB.
Incomplete or bogus information in the admission form can be a reason to disqualify you.
The university can discontinue any program whenever it wants.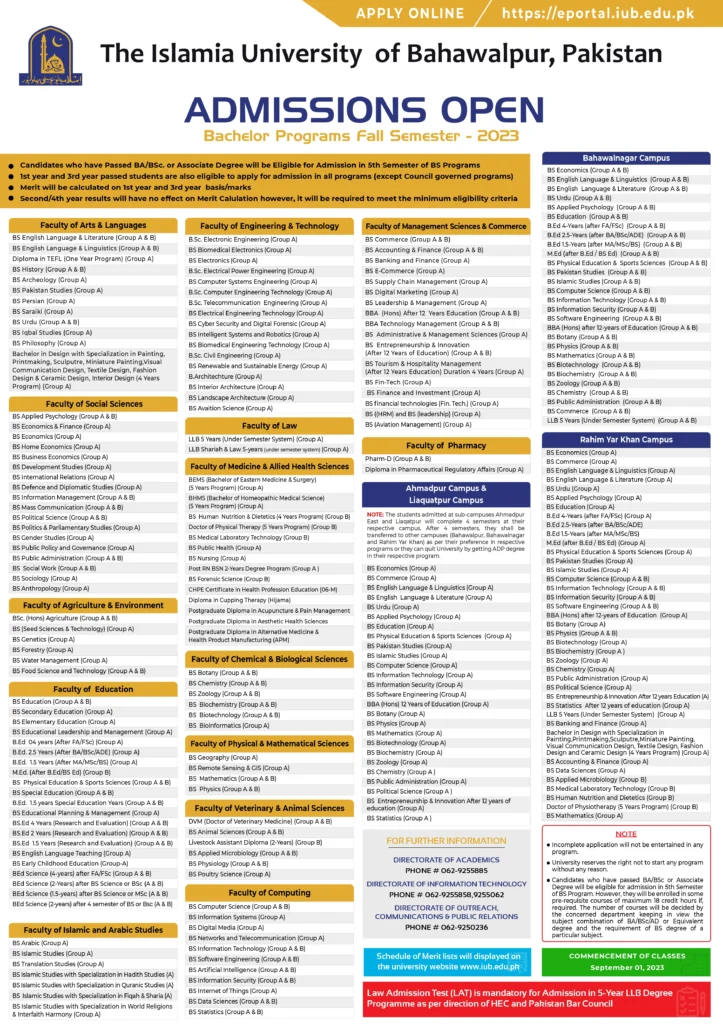 Departments in IUB
These are some departments where you can apply in IUB. We will tell you some details regarding the degrees so you can decide. Other than sub-campuses as well. The information about these campuses is in the advertisement.
Faculty of Arts & Languages
If you want to learn arts and languages, this is the place for you. You can pursue a career in English literature, Saraiki, Urdu, Philosophy, etc. The detail of all the degrees is in the advertisement.
Faculty of Social Sciences
Man is a social animal, so the importance of social sciences is self-explanatory. Want to study economics, mass communication, or political sciences? Jump in this ship.
Faculty of Agriculture & Environment
Pakistan is an agricultural country, and many students want to work on their agricultural land. So, this department has a variety of subjects where you can get a lot of insights about the industry.
Faculty of Education
Want to work as a teacher? Look no further. All the local and foreign schools and colleges want you to do education degrees before you join them as teachers. So, this department can help you with that.
Faculty of Islamic and Arabic Studies
If you want to learn Islamic studies, you must have a solid grip on the Arabic language. What better place to learn both than this department in the IUB?
Faculty of Engineering & Technology
Engineering is the core subject that applies to almost everything daily. Want to become an engineer? This department offers engineering courses in mechanical, civil, electrical, etc.
Faculty of Law
Law, justice, and a career look with as much respect as doctors. If you want to pursue a career as a lawyer or learn about Shariah law, this is the place.
Faculty of Medicine & Allied Health Sciences
Medicine, nursing, and public health are some of the allied health sciences not taught in most Pakistan universities. Especially if you want to learn about Eastern medicine, join this department in the relevant degree program to start your career.
Faculty of Chemical & Biological Sciences
Biochemistry and biotechnology are emerging fields in the world. Add bioinformatics, too, because all of our research is based on data. Equip yourself with these skills in the department.
Faculty of Physical & Mathematical Sciences
Everything in this world runs on the laws of physics and mathematics. Come here if you want to know how the world works at a sub-atomic level.
Faculty of Veterinary & Animal Sciences
Animals need care too, and because we get a lot of our food from cattle, there is a huge need for veterinarians and VAs. If you want to become a DVM, join this department.
Faculty of Computing
Have said it before and will say it again, we have stepped into the era of supercomputers and AIs. And if you do not want a computer to take your job, better to become the master of this computer. Join the faculty of computing to learn more.
Faculty of Management Sciences & Commerce
Everything in this world is because we earn money and manage the systems related to it. So if you want to learn the science of commerce and administration, join the management sciences and commerce faculty.
Faculty of Pharmacy
All the medicine you see in the pharmacies results from the hard work of pharmacists in the industries. Or even the pharmacist in the retail store got his degree in Pharm-D. Pharmacists also work in hospitals to ensure maximum healthcare for patients.
Want to become a registered pharmacist and have many job opportunities in Pakistan and abroad? Join the faculty of Pharmacy.
Conclusion
IUB is a great opportunity to explore multiple options at this university. No matter what area of science or arts, this university has it all. So do not forget the last date of 15 August 2023, and apply now!
We have covered how you can apply and what are the important details. So make a decision and apply to the department of your choice.
Frequently Asked Questions – FAQs
How many years are in BS?
4 years.
How do I pay my IUB admission fee?
Generate a challan on the admission portal and pay it at the nearest HBL branch.
Who is eligible for BS 5th semester?
You must have passed the previous years.
What is the age limit for the BS program at IUB?
25 years is the age limit.
What is the last date of IUB registration?
The last date is 15 August 2023.
Is admission open in IUB 2023?
Yes, the admissions are open.