PU Merit Calculator 2023 [Formula]
Want to find your merit percentage for admission to the University of Punjab? No worries, we got you covered in this article. Here, we will talk about the PU Merit calculation formula for 2023. So if you are an undergraduate student planning to be admitted to PU, this is your article to go to.
Related: PU Merit List 2023
This article will give you a step-by-step guide to calculating your merit percentage for PU. This way, you can calculate your merit percentage before anyone else among the students. Why should you do it? We will explain this in the article.
For now, keep reading to get all the information. Scroll RIGHT NOW.
Check: 2nd Entry test date for PU Undergraduate Admissions Announced
Punjab University Merti Calculator Formula 2023
Here is the merit calculator for PU. We hope that this equation will solve a lot of your confusion.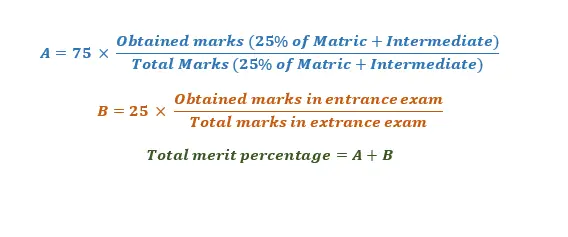 So, how do you use this formula? First of all, you will need the following factors.
| | |
| --- | --- |
| Matric marks | 25% |
| Intermediate marks | As per the formula above |
| Entrance test marks | 25 % as per the formula above |
| Total marks of PU entry test considered | 25% |
| Total marks of academics considered | 75% |
| 20 Marks in the case of Hafiz-e-Quran | 20 Marks in case of Hafiz-e-Quran |
Things needed for calculating PU merit
So in this way, you can calculate your merit. Also, remember that PU will deduct some of your marks if you are not a fresh graduate. It will deduct marks based on the number of years you are applying after passing your intermediate exams.
Read: Matric Result 2023 – By Name and Roll Number
For example, if the policy is that they will deduct 5% and you have passed your intermediate in 2021, they will deduct 10% if you are applying in 2023
Why should you calculate your merit?
So, why should you calculate your merit in the first place? You should do this because this will eventually give you a sense of clarity. Students often do not know if they will be able to secure admission or not. So if you calculate your merit beforehand, you can know whether you should apply to this university.
But you may also ask how you can do that if you do not know your entry test marks. Well, this is something you will have to figure out for yourself. For example, if you know you will get 80% marks in an entry test, factor that in.
Read:- 9th Class Result 2023
Conclusion
Finally, this article demonstrated how to calculate the merit percentage for admission to the University of Punjab (PU) in 2023. Students can establish their merit percentage in advance using the PU Merit Calculator Formula, which can help them make educated decisions about applying to the university.
Prioritizing merit gives clarity and helps students to appraise their prospects of admission. The merit calculation algorithm, which considers elements such as Matric and Intermediate grades, admission exam scores, and academic performance, assists applicants in determining their eligibility for PU.
Stay prepared and use this helpful guide to handle the Punjab University admissions process.
Frequently Asked Questions – FAQs
What are additional marks in the PU merit calculator?
The additional marks in PU are given to Hafiz-e-Quran. There are 20 marks for such applicants.
What is the weightage of the PU entry test?
The weightage of the admission test is 25%
What are the passing marks for the University of Punjab?
Minimum passing marks in PU are 50%.
How do I calculate my merit?
You can calculate the merit by using the formula in this article. But if you want to see it again, here you go!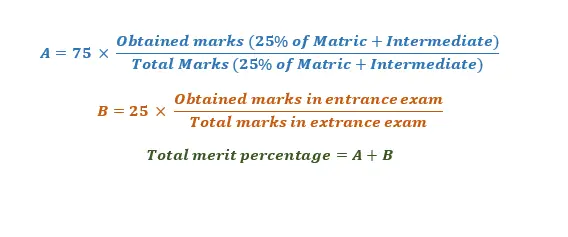 How can you increase your PU merit percentage?
You can increase it by studying harder for the test. I know you think that your Fsc marks may come your way. But if you do good in the test, you can secure a seat in your desired department in PU.