MS Nursing Admissions 2023 – Nishtar Medical University and Hospital
Nishtar Medical University has announced admissions to the MS Nursing program. The last date to apply for this 2-year degree program is 15 February 2023. Those interested in progressing their careers as nurses can go for this admission. Nursing is a noble profession, and no doubt, NMU is a good institution if you wish to progress in the nursing department.
This article will discuss the essential things you must know about admissions, the eligibility criteria, the test you have to take, and how to apply. So, let's get right into it.
MS Nursing admissions
Nishtar has finally announced the MSN degree for the 2023-2025 session. Those interested can visit the Nishtar website and download the admission form. To know how to apply? read this article till the end. We will cover this in detail.
Make sure that you have filled out the application. Otherwise, Nishtar will not accept your admission form. Once you have passed the entrance exam, the university will call you for an interview. The interview schedule will be announced on the official website. We will update that schedule in this article.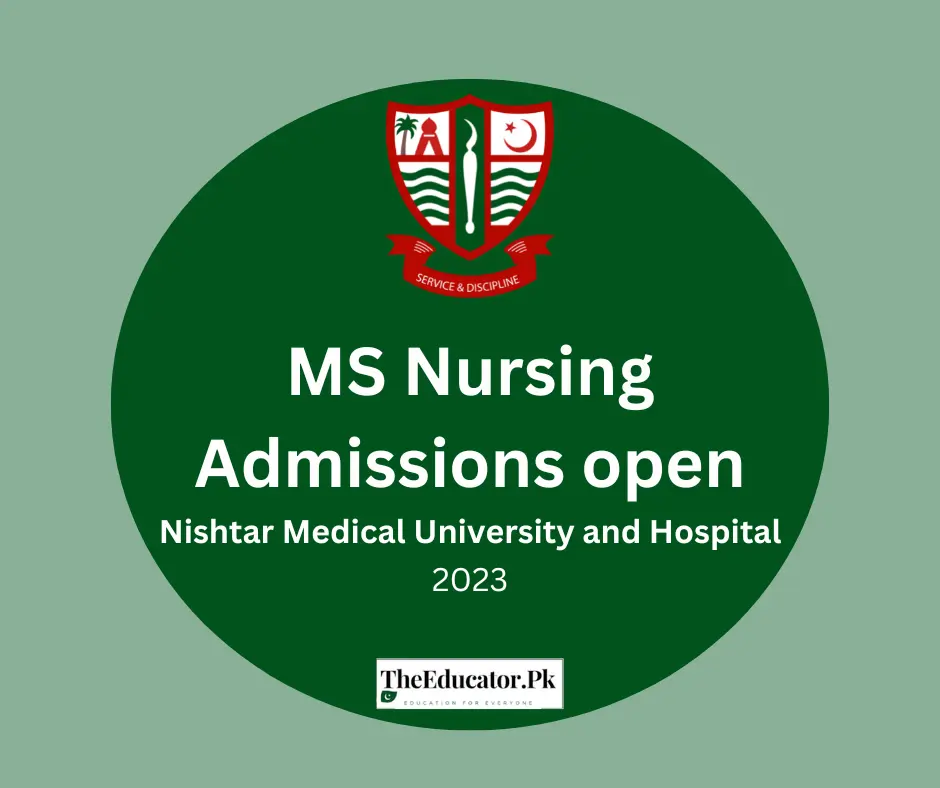 The admission will be granted on a merit basis. So make sure that you come through the proper channel. There is an appropriate channel for applying if you are already serving as a nurse and want to grow more. Also, if you did your undergraduate or studied through the Cambridge system, you must submit equivalence certificates.
Let's start this conversation with the eligibility criteria
Eligibility criteria of MS Nursing
We at theeducator believe in facilitating the readers. Hence, we will make a table explaining the eligibility requirements for this program. So, here it is:
Domicile
Punjab
Experience
At least 2 years of clinical experience after post-RN or BSN from a government institute
Education

3 years generic nursing diploma + 1 Year as a midwife
2 years post-RN BSN

or

4 Years BSN
1-year internship

Registration
Registered from PNC
Entry test for admission
You also have to take an entrance test and interview for admission. There will be 100 MCQs in that test. And the good news is that there will be no negative marking for giving a wrong answer. Talk about no pressure! You have to secure 50% or above to pass this test. The admission will be granted on merit.
But what is the aggregate formula?
Consider the following formula.
Test
Percentage added
GAT
50
Professional subject
50
Those who will get at least 50% on the entry test will be called for interviews. The schedule will be announced on the Nishtar website.
The entrance exam will be held on 22 March 2023 at 9:00 am in the College of Nursing, NMU.
How to apply?
Now, consider the following steps if you want to apply
Download the admission form from the official website or NMU College of nursing's admin office.
Pay a draft of 1000 PKR in favor of the treasurer's office NMU. Attach it with the application form
Attach all the required documents with the application form and submit by hand or by post before 15 February 2023.
Fill out the form carefully
Required Documents
Attach the attested copies of the following documents with the application form
Matric certificate
Intermediate certificate
Bachelor's certificate
Attested copies of all the DMCs of the bachelor's degree
Diploma nursing
Midwifery diploma
CNIC
Domicile
Post-RN/ BSN certificates, along with DMCs
3 attested photographs (passport size)
Experience letter
PNC card
Research work if any
Conclusion
The last date to apply is 15 February 2023, so hurry up. Make sure you are careful when filling out the application form. Because once you have submitted the form, you cannot ask for it to edit any information. Also, make sure you didn't enter any fake or wrong information. In that case, your application will not be considered. Also, the test is on 22 March, so prepare well for it.