BISE increased Passing marks limit for Matric and F.Sc
Students of the Federal Board have to work harder as the FBISE has increased the passing marks from 33% to 40%. Students must study harder and get at least 40% marks to pass a subject. This was a much-needed step to improve the quality of education at the intermediate and matric level. Students cant slack off anymore. The FBISE authorities decided this in November last year. It will be implemented now.
In this article, we will talk about his news and more. So stay tuned
BISE increased the Passing marks limit for Matric and F.Sc
The Federal Board of Intermediate and Secondary Education (FBISE) has published a notice on the matric (9th and 10th) and intermediate (11th and 12th) passing percentage requirements. Based on the announcement, the passing mark criterion has been raised from 33% to 40%.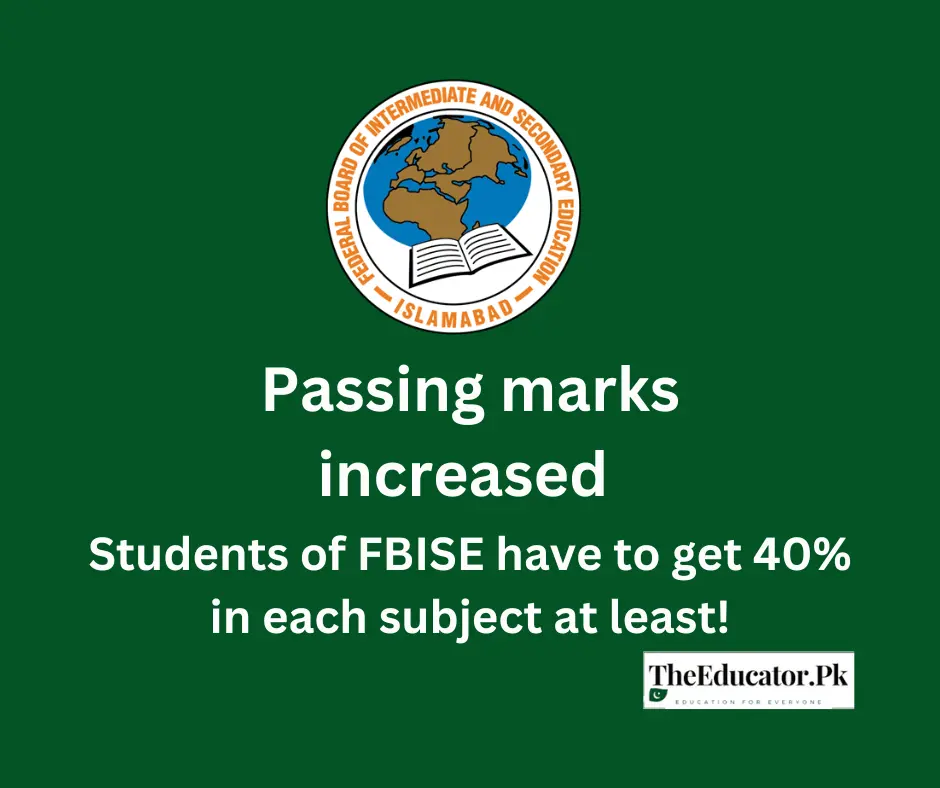 According to the announcement, students will subsequently be regarded as successful if they achieve 40 out of 100 in any course. This indicates that students will have to earn a higher percentage of grades to pass the test. The decision to elevate the passing grade requirement was made to improve education and ensure students are appropriately equipped for university education.
Reactions from Students and Parents
Parents and students have reacted differently to the news. Some students and parents worry that the higher passing mark criterion is just too excessive, making it difficult for students to complete the exam. They say that increasing the passing mark criterion will significantly strain students who cannot manage.
In contrast, other students and their parents agree that the increased qualifying mark requirement is a positive thing. They feel that raising the passing mark threshold will motivate students to study harder and focus more on academics. They also think increasing the passing mark criterion will assist in boosting educational standards.
Final words
Eventually, students and parents expressed mixed feelings over FBISE's decision to raise the passing marks threshold in matriculation and intermediate-level exams. While some argue that the higher passing mark criterion is excessive, others say it would motivate students to study more and devote more time to their education. Whatever the objections, the increased passing mark criteria are essential for boosting the country's educational level.