Punjab CTIs Jobs 2023 Apply Here [Advertisement Announced ]
3650 College Teaching Internee CTIS jobs approved by Chief Minister Punjab. Moonis Elahi also tweeted about the Announcement. The stipend or Salary of this CTI job will be fixed at 65,000 Rs per month. But keep in mind the salary given by Govt. is not every month but after your internship.
Chief Minister Punjab @ChParvezElahi has approved hiring of 3650 College Teaching Interns (CTIs) through competitive process on merit to address acute shortage of teaching staff in public sector colleges.

— Moonis Elahi (@MoonisElahi6) December 10, 2022
IMPORTANT
Theeducator.Pk is the official website, theeducator.Pk Team contacted with Moonis Elahi, He will provide the latest information to us. will be share on www.theeducator.pk
Criteria
The  Criteria for these CTI Jobs will be the minimum Master's degree in Specialist Subject.
Minimum Qualification: Master ( 2nd Division )
For Science: Master in ( Physic, Math, Chemistry, Biology
For Arts: Master in ( Urdu, English, Islamiat, Arabic, Social Study
The latest Educational Update the Matric 2nd Annual Result 2022 is going to announce. As well Bise Lahore Matric 2022 2nd annual result date is announced.
FREQUENTLY ASKED QUESTIONS
Q.1 Is there any issue with domicile and can we apply in other districts?
Ans= Yes, Domicil will be very necessary for applying for ctis 2023 jobs, but there will be no restrictions for the district, meaning you can apply to any district and no limited. Mean you can also apply for your district colleges and can also apply to other district colleges.
Q. Percentage or Division will be counted to make merit criteria?
AC to the Division Rule
Q. Interview Marks will be Counted or Not?
5 Marks will be counted
Q. BS. Hons, MBA, M.com can be Applied for CTis??
Yes

Q. Result awaiting could be eligible or not?

No, you are not eligible and applicable if your degree will continue, or not be completed. After completion of your Master's degree or Equivalent then You are applicable, otherwise not.
Q.  Which degree is most important for merit calculation?
Minimum Master's degree or Equivalent BS- 4 years degree with 2nd division eligibility of both Arts & Science category. It consists of 55/100 Marks
MARKS DISTRIBUTION CRITERIA
Education Qualification 85
MS/MPhil 05
position Holders(University/Board) 05
Interview Marks 05
                      TOTAL Marks 100

Read:- Join Pak Army 2023 Education Corps
CTIs Lectureship Jobs
These Cti Jobs are again announced because recently Punjab Government has been allowing all colleges in Punjab( Colleges List Of All Punjab Districts, Scroll Down ) to start BS-Programs. So for this Step, these jobs are announced, also FSC-level jobs that are mentioned in below Both advertisements.
Basic Information

Introduction
Internship
Salary/Stipend
Duration
  How to Apply for CTI jobs
  Criteria of CTI jobs
   Walk-in-interview
Punjab CTI Apply
The Punjab Government has announced many rounds about 3650 college teachers' jobs in this next month January 2023 that is approved by Punjab CM.
As all of you know CTI jobs will be coming every year in all districts of Punjab, And you all of know what is CTI jobs. How To apply and What Merit Criteria ??
Read:- Upcoming Educators Jobs
First, all of you know what is CTI jobs, so CTI means College Teacher Internship Jobs. As this will be just an internship, not a permanent job. As many industries and companies give internship programs consisting of 6 months, 8 months, 1 year, 2 years, etc. But not permanent.
So one will be a private college teacher if he got this internship. The Government of Punjab has announced these CTI jobs every year from all districts of Punjab.
As you know these will be private jobs like an internship, not permanent jobs. This will be valid for a fixed duration for example if the CTI internship will be 8 months, then you work just 8 months in that college where you're appointed.
Because these CTI jobs will be internship jobs, so it will be a short time duration. So according to the new policy, The duration will be 08 months.
Note: Age will be no limited
District Wise
Here in this section, I will describe all the cities of Punjab, it means that I wanna tell you about cti jobs for each and every city, then its will become easy for you to choose your city-based cti jobs, so keep with us and read this article fully.
CTI Jobs in Lahore
CTI Jobs in Multan
CTI Jobs in Faisalabad
CTI Jobs in DG Khan
CTI Jobs in Sialkot
CTI Jobs Sargodha
CTI Jobs in Rawalpindi
CTI Jobs in Bhawalpur
CTI Jobs in Rajanpur
CTI Jobs in Laya
CTI Jobs in Muzaffargarh
CTI Jobs in Chichawatni
CTI Jobs in Kot-Adu
CTI Jobs in Rahim Yar khan
How To Apply
The method of applying for CTI jobs is so simple when these jobs announced and you go to your nearest city college and submitted your documents and CV in due date with cti application, here below I will be given the application sample that's are filling and giving required data with documents.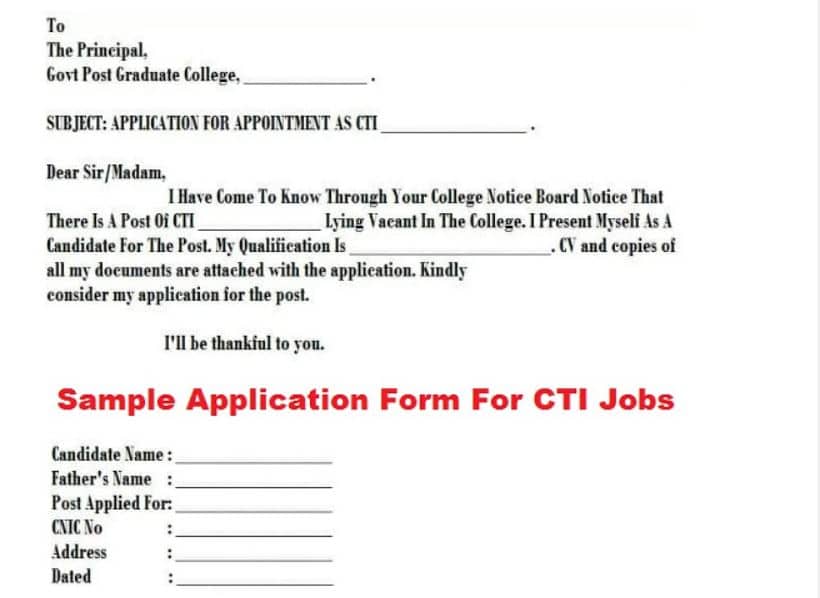 First, all of you need to fill up this above ☝️☝️ cti application form with full carefully & concentration and submitted this application with your documents at the time of cti jobs application.
 Then you go to your city college or any college from any district if you have belonged to any district, does not matter
When CTI jobs come, then the notice will be placed on the College notice board, you visit your college.
From visiting, you got information about which subject vacancy will be empty and how many …
If the vacancy will be empty of your specialist subject, then you can apply, otherwise not.
Both Arts/Science will be applying for CTI jobs
For applying, you submitted your Documents and CV to the city college where you want to the internship.
Then the Head of the College gives an interview, and after this, merit will be displayed. Maybe the test will be held in the interview if more candidates.
QUALIFICATION DIVISION  MARKS(Master/Bs-4 Years Degre)
1st Division                                                    05 Marks
2nd Division                                                  03
3rd Division                                                   02
CTI Walk-In-Interview
The last step will be the walk-in interview when the vacancy will remain in that college where you apply. The date of the walk-in-interview will also be mentioned in the advertisement. Then you go to your college for the interview.
The Interview consists of the test, then making merit if more than one candidate will be applicable. So the college head and management or community giving the test to each candidate, then they finalize the candidates of the specialist subject if the vacancy will be available.
Here posted a sample advertisement of CTI jobs, but it will be cti advertisement, I will upload the advertisement officially announced, so you can read it carefully, and follow the following steps for applying for cti jobs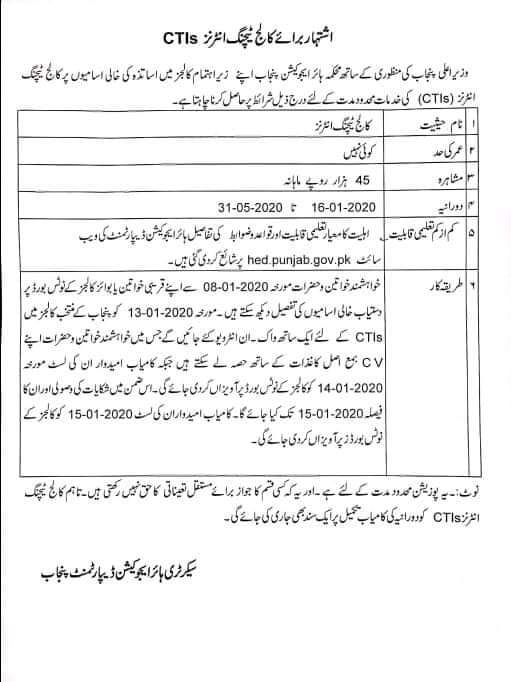 THE LAST DATE FOR CTI JOBS APPLYING
The submission of application process will be started from & this process will continue for 10 to 15 days for submitting your cti application and documents then after that interview will be started. So be prepared by physically & mentally
You read this article fully by concentrating, then all of you will be able to understand every point which is related to CTI Jobs. So if you have any confusion/question/suggestion/idea then comment below or Contact us.