Syllabus of css Exams 2022
Many Students applying for CSS exam, next they will be confused about that how to prepare CSS Exams and what Subjects will be selected and many other questions in their minds, so if you all wanted a solution of this confusion then this will be the right place all of you.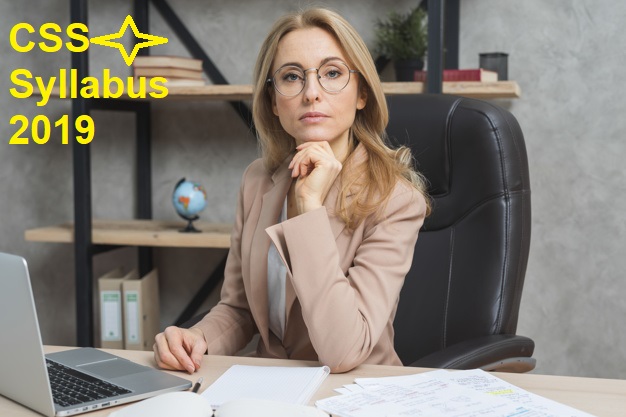 Eligibility Criteria
The qualification for CCS paper will be minimum Bachlor in science and arts
CSS Pattern 2019:  This will be consist of different subjects related to the arts and science. Total Marks of the CSS  test will be 1200, so it will be divided into two categories, each category individual marks 600,600. These both contain written test of css exam
Compulsory Subjects
Optional Subjects 
Compulsory Subjects for CSS Paper 2019
Essay 100 Marks
English(precise & composition) 100 Marks
Islamic Study or Comparative Study 100 Marks
General Knowledge( Gk ability,GK sci.) 100 Marks
Pakistan Affairs 100 Marks
Current Affairs 100 Marks
Optional Subjects for CSS Paper

This Category consist of different Groups, it will depends upon on your choice which subject you like and interested, also you 100 Marks subject and also 200 Marks of subject.
If you 100 Marks Subject, then you take 6 Subjects
If you 200 Marks subject, then you take 3 Subjects
Groups-1
Subjects Marks
Computer Science 200
Accountancy 200
Economics 200
Political Science 200
International Relation 200
Group-2
Subjects Marks
Chemistry 200
Physic 200
Pure Mathematics 100
Applied Mathematics 100
Geology 100
Statics 100
Group-3
Subject Marks
Governance & Public Policy 100
Business Administration 100
Public Administration 100
Town Planning & Urban Management 100
Group-4
Subject Marks
Islamic History 100
History of PAK & IND 100
USA History 100
Europian History 100
British History 100
Group-5
Subjects Marks
Botony 100
Zoology 100
Urdu Literature 100
English Literature 100
Environmental Science 100
Gender Study 100
Agricultural 100
Group-6
Subjects Marks
Muslim Law 100
Law 100
Constitutional Law 100
International Law 100
Mercantile Law 100
Philosophy 100
Criminology 100
Group-7
Subjects Marks
Punjabi
Sindhi
Arabic
Pashto
Balochi
Persian
Sociology
Anthropology
Psychology
Geography
Journalism & Mass Communicatio
As you show and read all these 7 groups then you will select 6 subjects from in these groups any subject even 100 marks or 200 marks And from any group, it depends on you. It means you will be selected those subjects that you have more knowledge and interested. An the Time of should be given 3Hours for each paper solve
Related:-  PMC MDCAT Syllabus 2022 PDF Download
In this Article, you will all guidance and all information related to the CSS test, and Hopefully this will be very helpful for all of you. If any confusion, question then comments us.