Undergraduate scholarships for Students of Balochistan and Ex-FATA
HEC has announced scholarships for students of Balochistan and ex-FATA. Those students who want to study in undergraduate degree programs all across Pakistan and belong to ex-FATA or Balochistan can avail this fantastic opportunity. The last date to apply is 13 February 2023, so hurry up! This scholarship is for the academic year of 2022-2023. And you do not have to worry about the degree programs; students can apply to any undergraduate degree program they want. This project is called "Provision of Higher Education Opportunities for the Students of Balochistan and ex-FATA (Phase III)." Currently, this is batch 1 of this scholarship program for these students.
If you are a student from these areas, read this article. We will give you detailed information regarding how to apply and the eligibility criteria.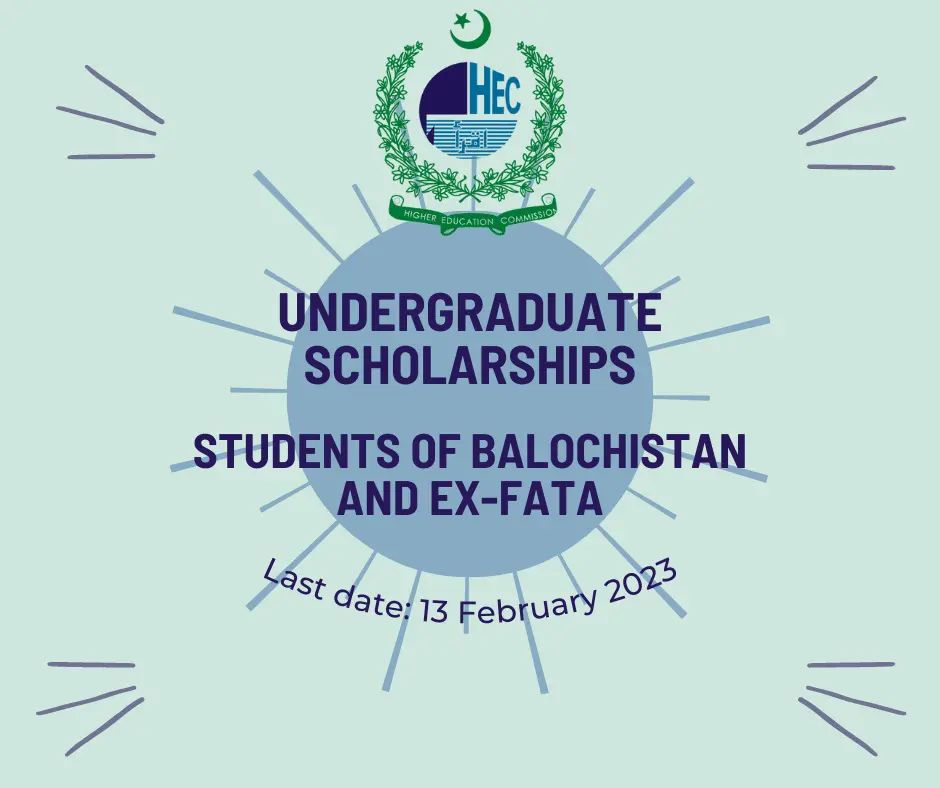 Undergraduate scholarships for Students of Balochistan and ex-FATA
This is an excellent opportunity for the students of Balochistan and ex-FATA. Due to unfortunate circumstances, these areas didn't get as many options as they should have. But not anymore. Now, HEC has taken this great initiative to provide scholarships for young undergrad students of ex-FATA and Balochistan. Do not forget the last date to apply. It is 13 February 2023.
Hec Lat Result 2023 is updated.
But how can you be selected? First, you have to apply. We will discuss this in this article, so keep reading it. After applying, HEC will conduct a test. You must secure at least 50% marks to pass that aptitude test. Scholarships are available on open merit, while some seats are reserved for the District quota.
For reserved seats, distribution is on open merit basis. So students have to compete there as well. You will not be considered for the reserved seats if you are already studying in a medical or engineering college. But such students can apply for the open merit category. This means that students already looking for an undergraduate degree program can apply for this scholarship. The seats will be divided equally among the students of ex-FATA and Balochistan.
For those students who want to apply for degrees associated with PMDC/PMC, the minimum criteria of PMDC or PMC will apply.
Before applying, make sure you read the eligibility criteria.
How to apply
The application process is online. Students don't have to send hard copies right now. But once HEC asks you for your printed documents and copies, you have to submit those. You can apply by following these easy steps.
First, visit the HEC portal and sign up.
Deposit a fee of 500 PKR. This fee is non-refundable. Send the money on the following details.
| | |
| --- | --- |
| Bank name | Habib Bank Limited |
| Title | Higher Education Commission |
| Account number | 1742 7900 1334 01 |
| Branch Code | 1742 |
The actual Bank transaction slip should be submitted with the application form and kept secure by the candidate to be shown at the exam center.
HEC will not allow the candidate to enter the center without this paid challan slip.
After filling out the application form, the candidate should submit the online form.
Submissions that have been saved or are incomplete in any way will not be accepted.
HEC retains the authority to delay or suspend the scholarship procedure at any time and without explanation.
Eligibility criteria
Read this carefully, as only eligible candidates will be considered. Otherwise, you will be wasting your time and money.
You must have a domicile in Balochistan or ex-FATA
Candidate must not be older than 22 years old.
Passed the intermediate exam with at least 60% marks
Must not be availing of any other scholarship
If you are waiting for the result, you are not eligible.
Conclusion
So what are you waiting for? It is an excellent opportunity for those students who are good at their studies. This will lessen the financial burden on your family. The last date to apply is 13 February 2023. Start preparing for the test because many students will compete for this scholarship. Candidates will be selected on open merit basis, so there is no excuse. Study hard and do good on the test.
Frequently Asked Questions
These are some FAQs related to this scholarship. But if you are confused, you can use the comments section.
Are results awaiting students eligible?
As stated in the advertisement, applicants must have obtained the required educational qualifications by the deadline. Students who are expecting their results are not allowed to apply.
Can people from areas other than Balochistan and ex-FATA apply?
No, you must have a domicile in Balochistan or ex-FATA
What's the distribution of Balochistan IN/Out scholarships and FATA IN/Out?
| | |
| --- | --- |
| Balochistan IN & FATA IN  | 90 % scholarships |
| Balochistan OUT & FATA OUT  | 10 % scholarships |
As the name implies, Balochistan IN and FATA IN are those students who got their 12 years of education until the Intermediate level in Balochistan or ex-FATA. While the other category is for students who got this education outside the mentioned areas.
What is the duration of the scholarship?
The grant for an undergrad degree is for one year and can be extended yearly for up to 4-5 years, depending on the program entered, subject to excellent academic achievement.
What kind of expenditures are supported by the Undergraduate Scholarship Program?
Allowances
Amount in PKR paid annually
Average Tuition Fee and other charges
200000
Living Allowance
12000
Book Allowance
10000
Traveling Allowance
20000
Initial Settlement Allowance
20000

(This amount is paid only once)
How many seats are available for this grant?
One thousand seats are available. 500 for Balochistan and 500 for ex-FATA
What criteria will be used to shortlist candidates?
Candidates will be picked based on their Aptitude Test Scores, conducted by the HEC, and Academic Credentials Scores. For undergraduate courses, educational performance will be weighted 50%, and aptitude tests will be weighted 50%.