EXTENDED: Summer Vacations in Punjab 2023 Announced [NEW Notification]
Punjab Announced Summer Vacation, The Vacation starts on June 6 and Ends on August 20. This Latest update is announced by the Education Department Govt of Punjab.
The Punjab boards have announced the summer vacations this year. Each year, the summer vacations start in June and continue till August. This year is not going to be different as well. As expected, the Punjab boards have announced the summer vacation schedule for this year. We will discuss what you can do to maximize your vacation time.
Check:- GAT Result 2023 19 May
Remember that, similar to previous years, the vacations will start in June and end in August. To know about this news in detail, continue reading the article NOW. You will get a lot more than news from us here.
Punjab Boards Summer Vacations 2023
Punjab boards have announced the summer vacations for this year. The time has finally come. You can start enjoying the vacation from 06 June 2023. This will be a 2.5-month break as the vacations will end on our independence day. Yes, enjoy the vacation till 20 August 2023.
Check:- Matric Result 2023
Each year, the Punjab boards have kept announcing summer vacations as the summers in Pakistan are quite severe. The temperatures in some areas can go as far as 45 degrees Celcius.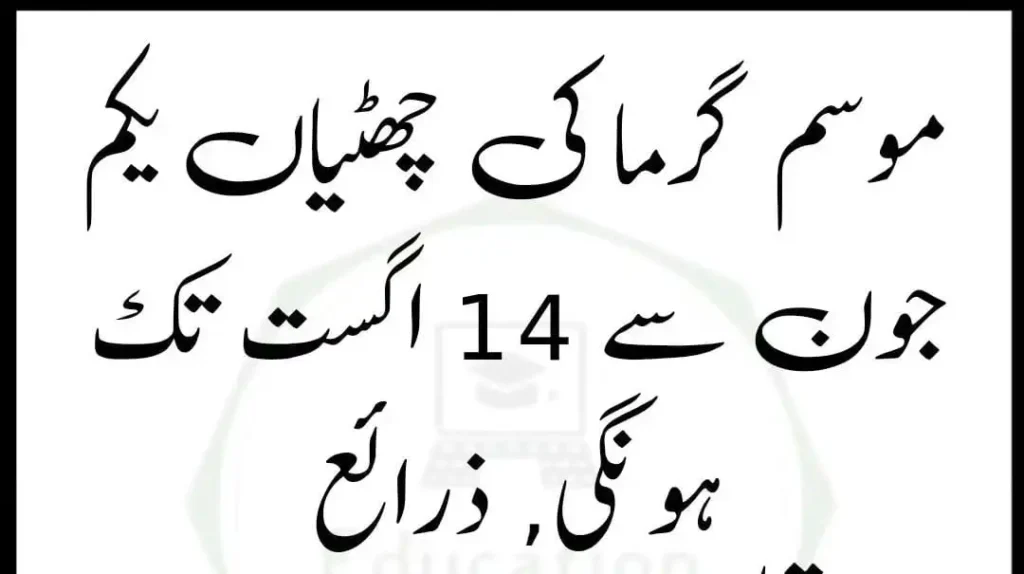 Due to global warming issues, this year's summers are also expected to be quite severe. Climate change has hit Pakistan the most, while our share in this fiasco is quite little.
Hence, you can start packing your bags if you go on a summer trip to the northern areas, or you can do some studying if you have exams after this.
That takes us to what you can do in your summer vacations. Let's talk about that.
How to enjoy summer vacation 2023?
There are many ways you can enjoy the summer vacation this year. We all know that no matter how heated things can get, there will be some lunatics who will spend their time playing cricket outside. Well, you can do that as well during the evening time.
You can also plan a trip to the northern areas. Trust me. There is a lot of beauty in the mountains of our country. You will also get a break from the heat of the summer. Not only this but also you will learn a lot about life during your travel. So if you can afford it, definitely go for this option.
But, if you are a student who has exams or wants to go the extra mile, this is a golden opportunity.
Read:- Gat Result 2023
You can make a schedule and start studying now. The competition is hard, and no one can survive by lying around doing nothing. So if you want to stand out in all this competition, you must study hard. Don't overdo it. You can schedule it so you have to give no more than 4 hours daily. Enjoy your vacation as well.
But if you are okay with continuing the busy routine, you can also enroll yourself in an academy. Academies, unlike schools, do not give vacations. But I will recommend doing self-study.
Conclusion
Summer vacations this year are expected to start on 06 June 2023 and continue till 20 August 2023. This is a long time; you can spend it easily by reading our tips.
My advice will be to also connect with your family and friends because they are the people that matter the most. You will realize this even more once you leave school and college.
Good luck with the vacation!