Here in this article, I will give you complete information about the medical test that will Mcat test 2019. And if all of you searching about the Role of MCAT test in different colleges of Pakistan and Scope of Mcat test in different universities and colleges of Pakistan, then this platform TheEducator.pk will be the right place for all of you.
Related: Mcat Test Date 2019 
In the modern, technological are, besides MBBS and BDS, there are also many fields having the degree, honor of "DOCTOR" like Pharm-D (D-Pharmacy), DVM (Doctor of Veterinary Medical) and DPT (Dr. of Physiotherapy).
I would like to highlight some important points about the scope of MCAT that why students can choose MCAT
There are Top 10 medical fields in Pakistan that's why many students wanted to become MBBS Doctor, also many parents dream that our children become Doctor and nothing anything.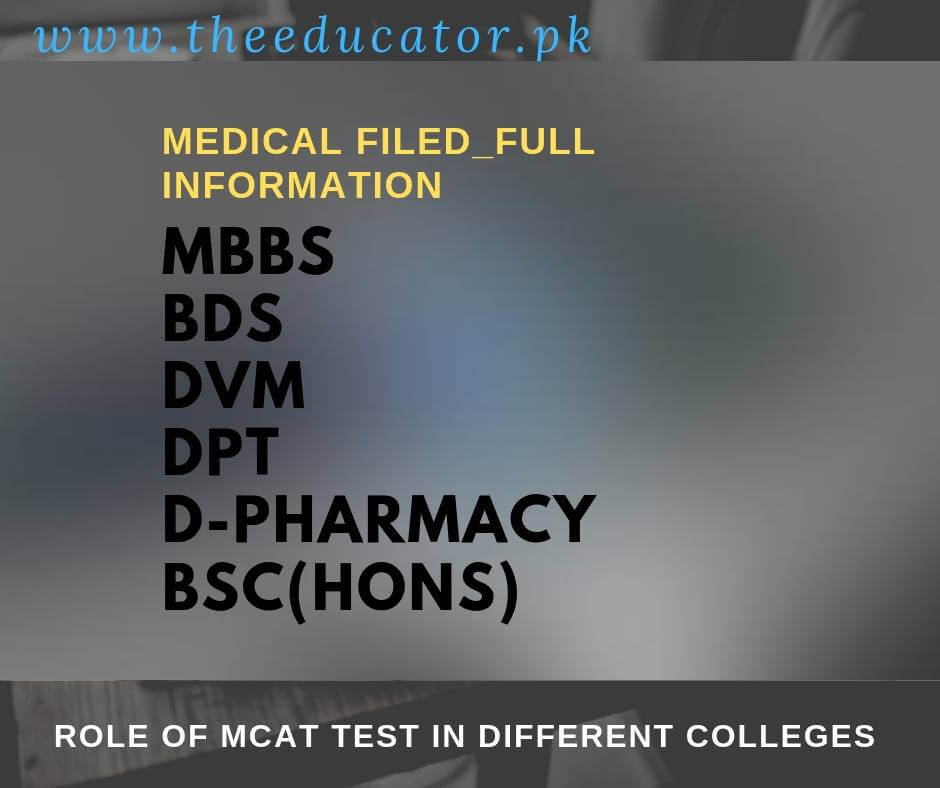 MBBS (Bachelor of Medicine, Bachelor of surgery)
MBBS stands for Bachelor of Medicine, Bachelor of surgery, This Degree having great importance for everyone because this will be the best world profession. So many intermediates wanted to get admission for mbbs after the attempt the MCAT test with 80 to 90% marks, many students having this dream and wish that one will get admission in mbbs. The reason is clear that mbbs is a great professional field of Pakistan.
Related: Mcat Test Syllabus 2019
BDS (Bachelor of Dental Surgery)
This BDS degree will be the great importance in the medical field, as all of you know that Dentist and the dental surgeon will be two different things, how ? here I tell with the explanation like that Dentist will be the oral surgery definition means just oral checkup and another Dental surgeon will be the Operative Doctor, not surgeon.
A DVM program typically lasts four years of in-depth training in animal sciences. You can also learn medical skills with an emphasis on applying them towards non-human members of the animal kingdom.
Related: Mcat past Papers
Institutions of DVM in Pakistan
There are 19 institutions in Pakistan that are offering DVM such as The Islamia University of Bahawalpur, University of Agriculture Faisalabad, University of Veterinary and animal sciences Lahore and some other institutions as well.
What is the scope of DVM in Pakistan
You can join the Pakistan army where you will be a veterinarian. You will take care of the horses, mules, camels, and dogs. Just like an MBBS doctor, you can start your own practice. It means if you don't get a job, you can do your own business. If you visit regularly NTS site you will find many jobs.
DPT (Doctor of Physical Therapy)
Physiotherapy is a health care profession which provides services to individuals/population to develop maintain and restore maximum moments that include movements and function threatened by age, disease, injury, and paralysis.
The institution of DPT in Pakistan
There are 93 institutions in Pakistan that are offering DPT such as Government College University, Faisalabad, Liaquat University Of Medical And Health Sciences Jamshoro, King Edward Medical University / Mio Hospital Lahore and some other institutions as well.
What is the scope of DPT in Pakistan
You can become a lecturer in a university. You can also become Physiotherapist to the Pakistani cricket team or any sports team and you can also run your own private clinic in case you don't find a job like a BDS doctor. You can a service manager of Physiotherapy.
Pharmacy (Doctor of Pharmacy):
A Doctor of Pharmacy is a professional doctorate in pharmacy.
Institutions of D Pharmacy
There are 78 institutions of D Pharmacy in Pakistan such as Abbottabad University of Science And Technology, Gomal University D.I.Khan and some other institutions as well.
What is the scope of D Pharmacy
You can work in an industry as a pharmacist B. you can work in a hospital as a pharmacist. You can be a consultant of Pharmacy and also become community Pharmacy.
    B.SC (Hons) Biotechnology
B.SC (HONS) is a bachelor of science honors in biotechnology is an undergraduate biotechnology course. Biotechnology is an integrated study of the concepts of chemistry, biology, cell biology, and computer course.
Institutions of B.SC (HONS):
There are 82 institutions that are offering B.SC (HONS) in Pakistan such as University Of Gujarat, Quaid-e-Azam University Islamabad, and some other institutions as well.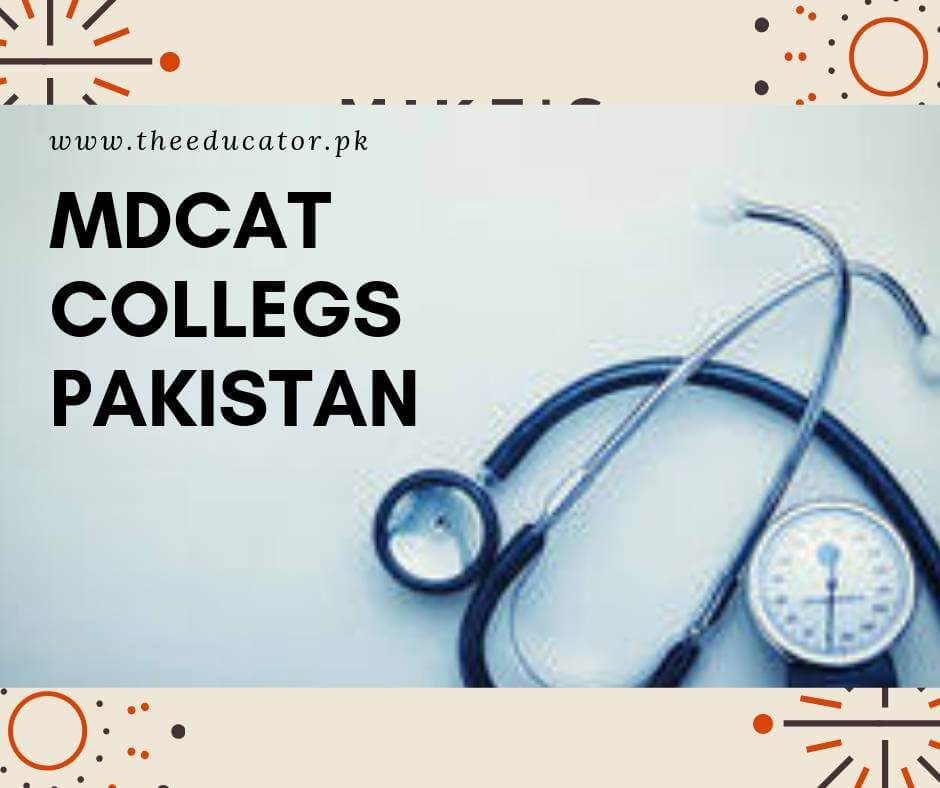 What is the scope [ MBBS, BDS, DVM, DPT, D-Pharmacy, BSc(H) ]
You can work so many research laboratories in Pakistan. You can find career any biotechnology laboratory that deals with the plant, animal or microorganism. You can work in Pharmacy companies, medicine, and allied industries. It's not the end you can find job horticulture, food science, and teaching.
Some other MCAT relative fields have so many scopes in fields as well.
Top 14 Medical College in Pakistan – MBBS In Pakistan
list of medical colleges will be following given below one by one and also the list of government medical colleges in Pakistan will be discussed below.
University of Health Science – Lahore ( UHS )
King Edward Medical University – Lahore
 Agha Khan University – Karachi
Army Medical College – Rawalpindi
Jinnah Sindh Medical University – Karachi
Federal Medical Dental College( FMDC ) – Islamabad
Quaid-e-Azam Medical College – Bahawalpur
D. G. Khan Medical College – DG Khan
Nishtar Medical College / Nishter Hospital – Multan
Isra University/hospital -Hyderabad Bahria University Medical & Dental Colleges
Bahria University Medical & Dental College Pakistan
 Isra University/hospital
 Allama Iqbal Medical College / Jinnah Hospital
Nawaz Sharif Medical College [Gujrat]
Hopefully, this article will be very helpful for MCAT students and mdcat students and free, so ask Junaid Jamshaid. Many important points that students follow Mcat test 2019 or mdcat 2019.
Related: