Join Pak Navy as Short Service Commission Officer 2023
At Pak Navy, a wide variety of positions are available for short-service commission jobs. These include roles in engineering, medicine, law, IT, logistics, and much more.
Pak Navy is one of the most prestigious institutions in Pakistan, and it offers a range of job opportunities for people looking to serve their country. This is the perfect guide if you are interested in applying for short-service commission jobs with Pak Navy.
This guide will discuss everything you need to know about these jobs and how to apply. So, read on to learn more about short-service commission jobs with Pak Navy and what you need to do to get started.
For those interested in pursuing careers with the Pakistani Navy, consider applying for a Short Service Commission through the organization's recruitment process. 
With its highly competitive selection criteria and rigorous training programs, this program offers individuals an unparalleled opportunity to serve their country and advance their careers simultaneously.
To begin the application process, interested candidates must ensure that they meet all eligibility requirements. These requirements vary depending on the specific position and type of service but generally include being a citizen of Pakistan and having at least a high school diploma or equivalent. 
Additionally, applicants must be in good physical health and pass a series of aptitude tests to be considered.
In this article, you will learn about the following:
What is Short Service Commission

Eligibility Criteria

Physical standards and other Criteria

The Last date to apply

Recruitment and Selection Centers

Future Prospects

Benefits of Joining the Pak Navy

FAQs
What is Short Service Commission
The Short Service Commission is a recruitment process for people interested in a Pakistani Navy career. This program is open to both men and women. 
Those accepted into the program can serve their country while gaining valuable experience in a field of their choice. A wide variety of jobs are available that individuals can qualify for through the Short Service Commission.
Once accepted into the program, recruits receive comprehensive training covering all aspects of their specialty and career track. This includes classroom instruction along with practical skills application in real-world settings. 
Related:- Join Pak Navy As PN Cadet
After completing the training program, new hires will be placed in a permanent position within the Navy that reflects their expertise and interest.
In Short Service Commission,  you can join the Army and serve a ten-year commission as a Commissioned Officer. You may extend your service for four years if you are not selected. The Permanent Commission will be available to you after this period has expired.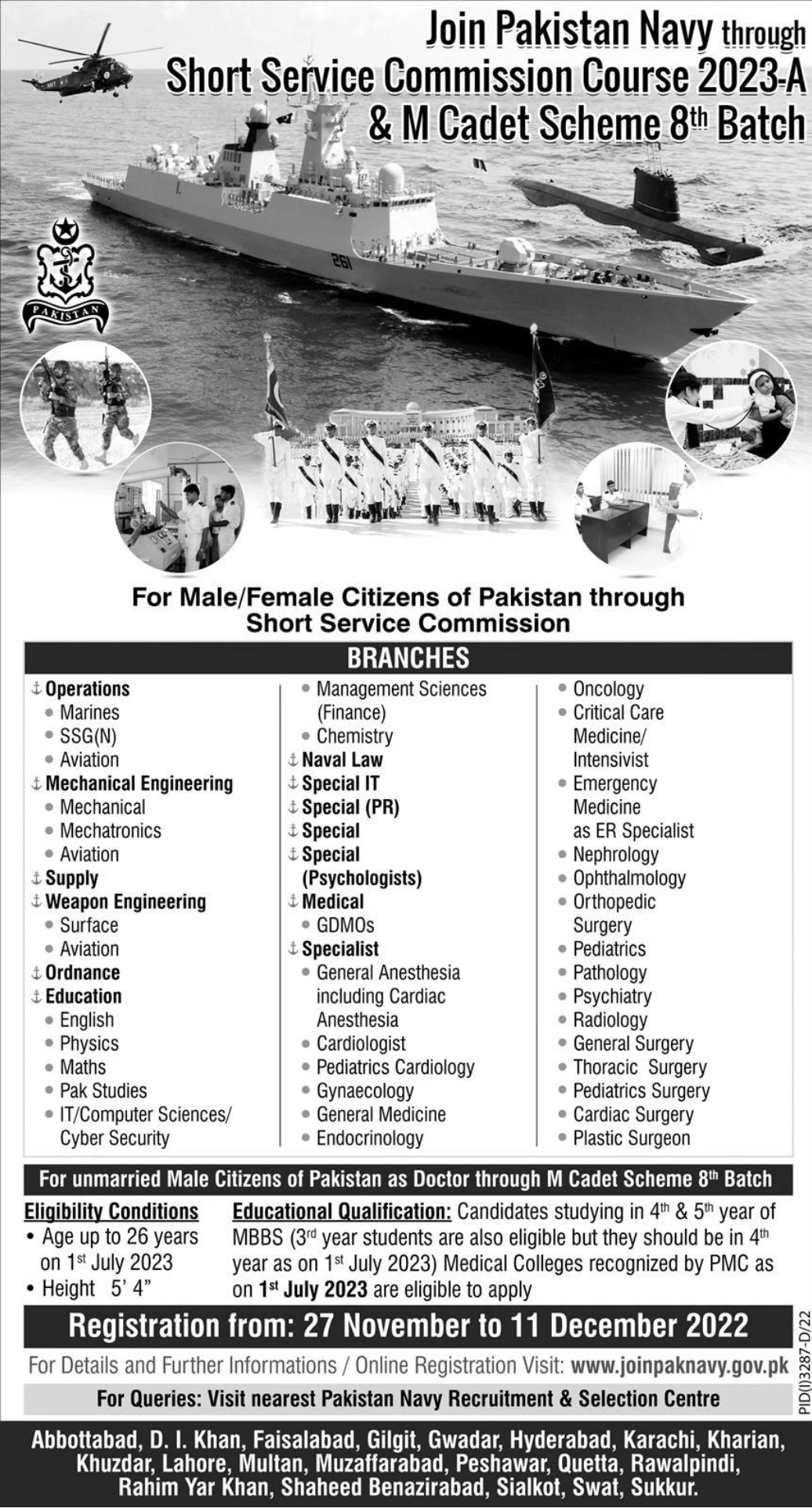 Branches to Apply for SSC:
You can apply for a short service commission in the following branches.
Sr. No
Branch
Sub-Categories

1

Operations

Marines
SSG(N)
Aviation

2

Mechanical Engineering

Mechanical
Mechatronics
Aviation
3
Supply

4

Weapon Engineering

Surface
Aviation
5
Ordnance

6

Education

English
Physics
Maths
Pak Studies
IT/Computer Sciences
Cyber Security
Management Sciences(Finance)
Chemistry
7
Naval Law
8
Special IT
9
Special (PR)
10
Special(Psychologists)
11
Medical
GDMOs

12

Specialist

General Anesthesia, including Cardiac Anesthesia
Cardiologist
Pediatrics Cardiology
Gynecology
General Medicine
Endocrinology
Oncology
Critical Care
Medicine/Intensivist
Emergency
Medicine as ER Specialist
Nephrology
Ophthalmology
Orthopedic
Surgery
Pediatrics
Pathology
Psychiatry
Radiology
General Surgery
Thoracic Surgery
Pediatrics Surgery
Cardiac Surgery
Plastic Surgeon
Eligibility Criteria
The following are the eligibility criteria for joining the Pak Navy as a Short Service Commission officer.
Age Limit
As of 1st July 2023
26 Years
Physical Standards and Other Criteria
| | |
| --- | --- |
| Position | Short Service Commission |
| Citizenship | Pakistani National |
| Gender | Male/Female Candidates |
| Height | Minimum height must be 5'4" (162.5) |
| Marital Status | Unmarried |
| Weight | According to the Body Mass Index |
Last date to apply
Candidates can apply for Short Service Commission on joinpaknavy.gov.pk from 27 November to 11 December 2022.
Recruitment and Selection Centers
Below is the list of recruitment and selection centers in different cities.
| | | | | | |
| --- | --- | --- | --- | --- | --- |
| Abbottabad | Peshawar | Hyderabad | Khuzdar | Dera Ismail Khan | Rawalpindi |
| Rawalpindi | Rahim Yar Khan | Sukkur | Swat | Sialkot | Shaheed Benazirabad |
| Faisalabad | Karachi | Kharian | Quetta | Gilgit | Gwadar |
| Lahore | Multan | Muzaffarabad | | | |
Future Prospects:
Free accommodation and 50% waiver in fares by air or by train

Training and posting in different cities in Pakistan

Highly competitive salary package

Free Medical treatment for self and family

Free Uniform and Mess facility during job

Possibilities of working for Bahria foundation after retirement

Family accommodation after marriage and other allowances

Insurance during job

Excellent education facilities for children
Benefits of Joining the Pak Navy
One of the main benefits of pursuing a career in the Pakistani Navy is that it offers many opportunities for training and professional development. This allows aspiring sailors to learn new skills and helps them advance their careers within the organization over time. 
Short Service Commission in Pak Navy candidates is compensated well for their hard work and dedication, making this an attractive and rewarding career choice for many young men and women.
Another significant benefit of working in the Pakistani Navy is its excellent benefits package. This includes health insurance coverage, paid vacation time, military pension benefits, recreational facilities on base, and much more. 
Furthermore, there are opportunities to live and work domestically and abroad, depending on the organization's needs at any given time.
In addition to these tangible benefits, intangible benefits can be enjoyed by those pursuing a Pakistani Navy career. These include travel and adventure opportunities and camaraderie with other service members. 
Additionally, by serving their country, individuals in the Navy have the opportunity to make a real difference in the lives of others.
Overall, many benefits are associated with pursuing a career in the Pakistani Navy. Whether you are interested in training and development opportunities, high salary and benefits packages, or simply a sense of pride and satisfaction from serving your country, there is something for everyone in this exciting and rewarding field.
FAQs
Q: Is there any age relaxation to apply for SSC?
Ans: No, There is no age relaxation to apply for SSC.
Q: During training, I wish to withdraw from Pakistan Naval Academy. What will be the consequences?
Ans: If a candidate withdraws/is removed from training on any ground, he will be declared permanently ineligible for all commission types. 
Q: After my final medical examination, I was declared unfit. What should I do if I disagree with the decision of the doctor?
Ans: You must write an application to the Director of Recruitment for an Appeal Medical Board; the Board will then reassess your fitness at CMH Rawalpindi.