NUST Entry Test 2020 With Fully Guideline
If you are looking for searching and finding complete information about the National University of  Sciences and Technology (NUST) like nust entry test syllabus, nust entry test 2020, nust admission 2020, nust admission criteria, nust entry test result and many more…
Related:- How To Prepare ECAT Test 
Then this platform "Theeducator.pk" is the best platform for all of you and especially for intermediate students, so wanna get complete information then read this post till the end.
NUST Admission Criteria 2020
NUST stands for National University of Sciences & Technology is a public research university under the administration of Pakistan Armed forces with its main campuses in Islamabad, Pakistan.
NUST provides different programs covering the discipline of electrical, telecommunication and IT education. Students can admission in different fields such that engineering, technology and sciences as a given method:
NUST Admission Schedule 2020
NUST admission starts and done by taking the test that's an entrance test for inter students who wanna admission to this university, as nust entry test also known as NET.
Also Check:- Top 30 Medical Fields For Pre-Medical Students
So, this NUST having three centers in different cities conducting this entry test, in the below table complete information given about the just entry test 2020 with a complete schedule ( Time & Date ).
Three Cities Conducting NUMS Entry Test 2020
Karachi
Quetta
Islamabad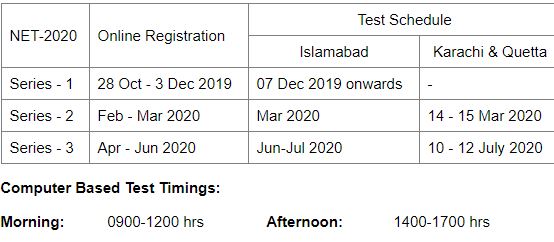 NUST Entry Test Eligibility Criteria
This Platform https://theeducator.pk/ is giving here all information such as who is eligible for NET test or not…
NUST offered different programs such that MS programs in engineering, Natural sciences, Applied Biosciences, Management, and social sciences and its eligibility criteria are given below
NUST eligibility criteria in engineering IT, Natural sciences and
applied Biosciences are 2.0 out of 4.0/ 55% in HSSC or its
equivalent education and in GAT at least students can gain 50
score.
For Business and social sciences sixteen years of schooling
students gain 55% marks except for MBA, MS programs CGPA is 2.5 out of 4.0 or 60% marks are required and in GAT minimum test scores is 50 accumulative test scores.
NUST Fee Structure 2020
The fee structure for undergraduate students in Engineering/It, Bio Natural Sciences Architecture, social & Business studies
Admission processing fee 35000 35000
Security Deposit 10000 10000
Semester fee 95000 110000
Miscellaneous charges 2700 2700
Students can pay tuition fee first academic year (two semesters) in
advance. The tuition fee will be paid through challan from NUST website and security fee will be paid at the time of admission.
Instruction for NUST admission online
Here in this section, I will discuss you that how to apply to NUST Univerity For online admission,  read the following instructions carefully
Visit http://pgadmission.nust.edu.pk/ candidates access this application by giving a password from after providing a valid email address.
 Candidates can apply for more than one discipline through single registration but they will be charged for each discipline.
 A recent photograph and different academic scanned copies of documents can be attached such that Metric/ equivalent certificate,
HSSC/ Postgraduate degree and transcript can be attached,
computerized CNIC, NOC, experience certificate and higher
education Aptitude test result card will also be attached.
Eligibility criteria will be a preference for those which students can be applied and student's deposit fee online after taking challan from any branch of HBL.
NUST Entry Test Syllabus
The syllabus for nust entry test 2020 will be mention below in detail…
FA/FSc level ( Part-l & ll )
English Paper on the pattern of SAT Test
Intelligence Part
Textbooks will be beneficial
NUST Paper Pattern [NUST NET Test Pattern ]
The Paper pattern of NUST test is like the MCQs test, that having four questions, so tick the correct one among that. Also, do you know is negative marking in nust test or not? Many questions arise in every inter students, So answer in the simple word "No" there will be no negative marking NET test.
NET (Nust Entry Test ) Paper Pattern
Physics (30% )
Chemistry ( 15% )
Math (40% )
Intelligence ( 5% )
English (10% )
Hopefully, this post will be very informative and helpful for all of you and especially for inter students, so if any question or confusion then asked here in comment bx]ox.
RECENT ARTICLES FOR YOU