KEMU announced First merit list for DPT 2023
KEMU has announced the first merit list for DPT batch 2023-2027. If you have applied, it is time to check whether you made it to the first merit list. Do not waste time; check your name in the list now so that you can start the documentation for your admission process. The merit list was announced on 16 January 2023. The students who are aspiring physiotherapists, KEMU is the place to be. So what are you waiting for? Read this article to check if you are not on the merit list on not.
This article will discuss the DPT merit this year and how it differs from the previous year.
KEMU DPT first merit list 2023
The first merit list for Doctor of Physiotherapy has been announced. The person on the top has an aggregate of 94.49 %. While the closing merit is 90.95. This means that 44 seats are included in the 4 % window. The competition is fierce. Students line up to secure an admission now. No one lets go of their seat. There was only one seat reserved for underdeveloped areas. And merit for that is 90.60 this year.
The last date for submitting the fee is 24 January 2023. Students are advised to submit their fees and documents before this date.
You can check your name from the list below. Comment if you are among these people.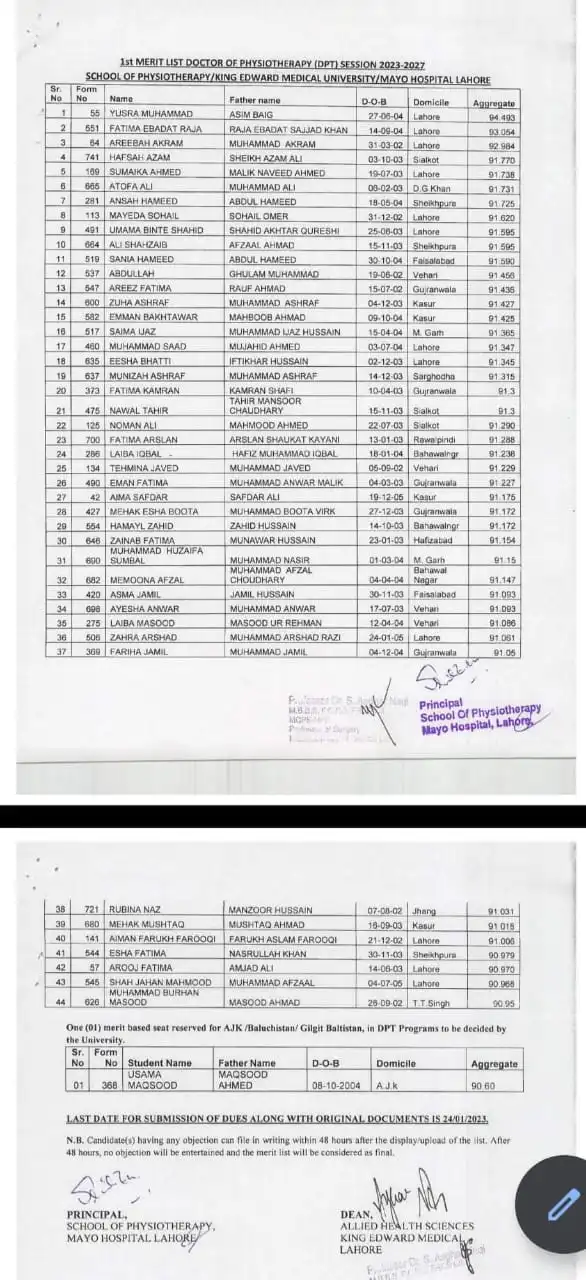 Comparison from previous years
Last year, the merit closed on 89.407. This means that this year is not going to be different as well. If we go 5 years back, the competition wasn't this fierce. But now, no student lets go of their seat. The merit is increasing each year because of this reason. So if you manage to secure a seat, please do not let it go. Never do that unless you are 110 % sure you will secure a seat elsewhere.
Importance of DPT in Pakistan
A physiotherapist helps individuals feel good when they are wounded or sick. Special workouts and approaches help patients move better and lessen discomfort.
Physiotherapists are highly significant in Pakistan since they can treat persons involved in mishaps or injured while enjoying athletics. They can also assist persons suffering from chronic diseases such as arthritis or back discomfort. Physiotherapists can also assist persons who have had operations in returning to regular activity.
Another significant function of physiotherapists is to teach individuals how to avoid injuries. They may educate patients on how to undertake exercises to strengthen their muscles and walk in a way that is not harmful to their bodies.
Conclusion
The merit is high this year as well. And unfortunately, there is no way it will go much lower that the previous year. So, students are advised to look for other options as well. Do not stick to one single university. Otherwise, you will waste your time. For students with aggregate near the current closing merit, visit us again when the next merit list is uploaded. We will update it on our website.