Good News for educational related jobs and those who are waiting for lecturers jobs, so here in this article I will tell you about the upcoming fpsc lecturers jobs that have been recently announced, so if you wanna complete information then read this article completely. The outlines are given below…
FPSC Lecturers Jobs
FPSC Lecturers Jobs For Male
FPSC Lecturers Jobs For Female
Applying Criteria & Qualification
FPSC Advertisement 08/2019
How To Apply ( Online )
FPSC LECTURERS JOBS 2019
As recently, the federal government has been announced the lecturer's jobs in many sciences and arts subjects like physic, chemistry, biology, Islamic study, English, commerce and many more, details given below for each category male & female. PPSC Lecturers Jobs
Applying for all applicants from Punjab, Sindh, Baluchistan, KPK, AJK, and Fata
FPSC LECTURERS JOBS FOR MALE
Federal Government has been announced lecturer jobs for male ( BS-17 ) for any College in Islamabad, so the detail of total vacancies and each subject will be given below…
Total Vacancies For Male=             66
Punjab On Merit= 33
KPK= 8
Baluchistan= 4
GB FATA= 3
AJK= 1
Sindh= 12
Age Limit = 22- 28+ 5 years Relaxation

FPSC LECTURERS JOBS FOR FEMALE
Federal Government has been announced teaching and lecturers jobs for a female having BS-17 scale.
Total Vacancies For Female                     62
Punjab= 31
KPK= 7
Balouchistan= 3
Sindh= 12
Fata= 3
AJK= 1
Age Limit= 22-28 + 5 years Relaxation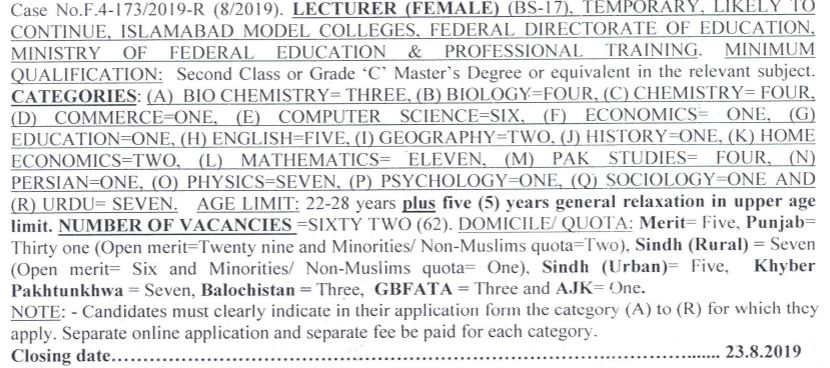 APPLYING CRITERIA & QUALIFICATION
Both male & female could be applied
Candidate must have domicile
Age will be limit ( 22-28 years ) 5 Years Relaxation
No B.ed COMPULSORY
QUALIFICATION= Minimum qualification for applying these Lecturers jobs will be Master Degree in any subject ( even arts or science ) with 2nd Division or Grade C. Upcoming NTS Educators Jobs 2019-2020
FPSC LECTURERS JOBS ADVERTISEMENT-DOWNLOAD
Here in this section, I will be given you recently announced fpsc lecturers jobs advertisement that will be in PDF form, and all of you can easily download it. Click the download button.
HOW TO APPLY ( FOR LECTURERS JOBBS ONLINE )
Here in this section, I will tell you about how to apply online for lecturer jobs for both male and female, here complete procedure will be given, You can apply online through official website of FPSC you can read this below instructions carefully, then hopefully, you can apply yourself from anywhere like home, office outside, etc.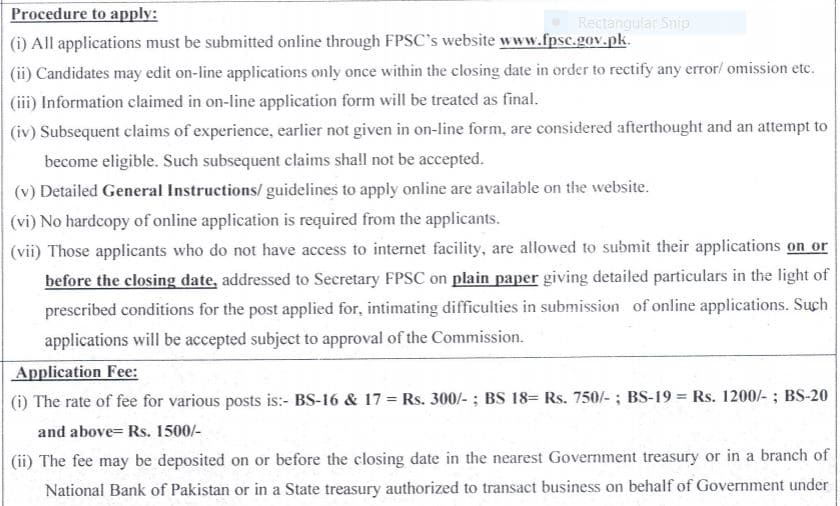 LAST DATE FOR APPLYING FPSC LECTURERS JOBS 2019
Last Date= Friday, 23rd August 2019
Hopefully, this article will be very helpful and informative for all of you, if any question, confusion(about how to apply or another)) then asked here in the comment box, we will replying you immediately. and if you like this article then share with your friends and family.