Educators Preparation Whatsapp Group [Join]
"TheEducator.pk" is a website. It provides educational news, articles, resources, notes, and many other helping materials like date sheets, educational content, and books for the preparation for different exams. It also provides news related to educators' jobs, and educational news/events. This is a place where you can discuss, share and interact with other fellow educators.
Today you'll know about:
Educators' preparation WhatsApp group

The objective of the group

Why should you join this group

Benefits of joining WhatsApp group

How to join our WhatsApp group

FAQs
Educators' Whatsapp Group
A group to share and discuss questions related to upcoming educators' exams. All the latest information regarding PPSC educators' exams will be shared here. You just have to join this group. 
This group is specially designed for candidates preparing for the PPSC Educators exams. You can get the latest information related to PPSC, FPSC, LAW-GAT, and news related to different jobs as well as content for preparing for all these exams here.
If you are planning to appear in Punjab Public Service Commission's upcoming recruitment test and have complete trust in your qualifications, then I wish you good luck with your test. We aim to facilitate and help candidates prepare for the written test and interview through this group. 
The Objective Of The Group
The objective of this Whatsapp Group is that Candidates who are working hard for the exam preparation could get useful information about the exam content and pattern from this group. However, no one can guarantee they will be selected by participating in this group.
Latest:- Upcoming Educators Jobs 2023
Why Should You Join This Group
We will provide you latest news and updates on a daily basis. I will do my best to keep all of you informed, and I always attempt to respond to all my WhatsApp group members. In addition, I will upload all past papers for all types of jobs and tests, particularly NTS sample papers, educators' past papers, PPSC old papers, and FPSC sample papers, and I will upload them in PDF format in this WhatsApp group.

Read:- 10th Class Result 2023 Chec Online
Benefits Of Joining WhatsApp Group
Join this WhatsApp group today and stay up-to-date with educational news and the latest and upcoming jobs. Whether you are a student or a working individual, you will undoubtedly find this group helpful. 
How To Join Our WhatsApp Group
To join our WhatsApp group, First of all, click on the link mentioned below.

Once you have clicked on the link, it will redirect you to the following page. This is the official WhatsApp group named as "Upcoming Educator Jobs". Now click on the button "Join chat".
After clicking on the "Join chat button", It will ask you to open the WhatsApp on your desktop. Click on the option "Open WhatsApp".

Now it will redirect you to the following page where you can click on the button"join group".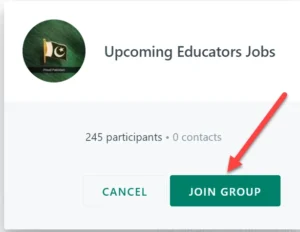 After clicking on "JOIN GROUP", You will successfully join the group. And it will look like the following image.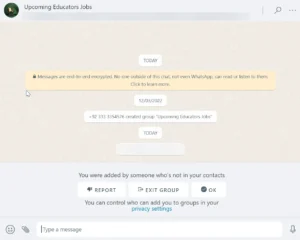 We hope that the information in this article will be helpful to you. Once you have joined the group, you may invite your friends and colleagues who are struggling with the PPSC exams. Within the group, you will find many resources and updates regarding the PPSC examinations.
FAQs
Q. Will I get books and notes for the preparation of PPSC exams in this group
Ans: Yes, this group is intended to help students and professionals prepare for PPSC exams. In this group, you will find all the latest news and updates, as well as resources.
Q. Will I get dates related to different exams and their procedures like "How to apply."
Yes, we share news and updates regarding various exams. Additionally, we have written some articles on "How to apply" for all these posts, which can be found at Theeducator.pk.
Q. Is there any useful resources in this group?
There are many useful resources, books and notes available in this group regarding the preparation of PPSC exams.