Here in this article, I wanna tell you complete information about CSS (Central Superior Service) toppers interview OF Pakistan in 2017 & 2018. So from this post, you will get complete information that how those toppers prepare their CSS preparation. This Platform ( Theeducator.pk )gives you all other main points and information that will b related to the CSS Exam.
Here in this section, I will tell you the introduction of toppers interview and tips & tricks that used for the preparation of css. Every year thousands of sharp-minded individuals appear in CSS exams and all of thousand sharp-minded individuals; one of them is Shanza Faiq. This exam is the most difficult competitive exam in Pakistan.
CSS Toppers Interview 2018
Here in this section, I will tell you about CSS toppers Interview that will be held in 2018. And in 2018 the topper will be Pakistani Girl that will be named Shanza Faiq.
Shanza Faiq CSS Topper Interview
Shanza Faiq is a topper student that belongs to Punjab Provenience and is doing Law graduate from LUMS. Her favorite expertise is in Law and Legal studies, Legal Analysis, Legal Theory, Human Rights and Democracy and Legislation.
Interview Of Shanza Faiq [Shares Her Journey And Tips For CSS Exam
Shanza also happens to be one of the two females that was selected to work for Pakistan
Youth Parliament from Islamabad 

Successful writer as well with Articles published on Dawn 
Here  Two Section Were Discussed From Her Opinion In Question/Answer Format.
1.My CSS journey/schedule 
2.Subject Selection Tips 
Question 1: How much time you have taken to prepare your CSS exams?
Answer: Shanza Faiq said that CSS exams preparation is unique. She said that
she prepared CSS exams test in two and a half months.
Question 2: Which Academy you joined for CSS preparation?
Answer: she said that she don't believe in joining academies and prepare the test of CSS by himself.
Question 3: Which was your subject selection?
Answer: she said that she select subjects by her own choice instead of choosing International Law but she don't mentioned her optional subjects.
Question 4: Which was your source of preparation?
Answer: She said that her source of preparation is from the internet and also
prepared her own notes instead of choosing ready-made and academies notes. She read two to three English newspapers on daily bases.
Question 5: Which subjects are difficult in her preparation of CSS?
Answer: She said that compulsory subjects such as Islamiat and science were
quite difficult because she has done O Level and these subjects are new for her. Islamic studies, Islamiat and Science which are based on Ratta are very difficult for and for preparation of these subjects I remember headings sub-headings and contents.
Question 6: What helped you the best to ace CSS and secure 1 st position in the short span of 2 to 3 months?
Answer: I think the internet is best and all of my preparation is from the internet and from my childhood in my house we discuss on a dining table about different religion, politics and social economic issues. So I saw every matter from a different point of view and analyze the matter from different views.
Question 7: Are you active on social media?
Answer: Yes; I am active on Facebook, Instagram, and Twitter. But Twitter is
my main medium for touching social media.
Question 8: Most toppers prefer DMG, what was your motive behind choosing FSP?
Answer: Due to my point of view; I choose FSP because of my father service
foreign way. That's why I interact with foreign and also my interest in foreign
matters.
Question 9: Any advice if you give to newbies.
Answer: In the end, all I can say that achieve your goal by heart and soul then
you follow your gut instinct build your strengthens, interests; read newspaper and research articles religiously and make your own notes.
CSS Toppers Interview 2017
First, I discussed above css topper of 2018, now I will explain the Css toper interview of 2017. Every year many students top CSS test in Pakistan. In 2017 that student top CSS, his name is Awaid Irshad Bhatti. He Was CSS Topper 2017.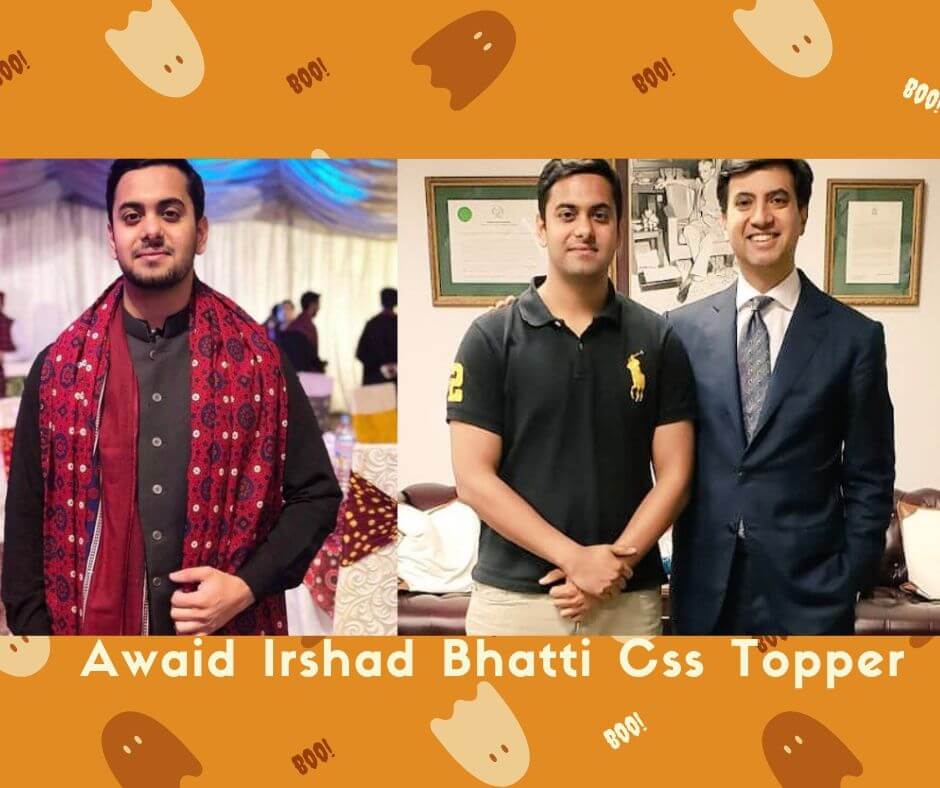 Awaid Irshad Bhatti Css Topper Interview
Awaid Irshad Bhatti is a topper student of 2017 that belongs to Lahore and is performing services on administrative of Pakistan. His favorite expertise is to change administration in Pakistan and he is also debater of Pakistan.
The Guy who left his dream job to top Pakistan's most Prestigious CSS Exam2017, here complete interview with questions and answers. And also he gave tips and tricks that were the use for the preparation of his CSS Exam preparation.
Interview Of Awaid Irshad Bhatti
By Grace of Allah, stood first in the country in my first attempt. It was a humbling experience as one can never prepare for such an honor, so let's see, many questions asked from him
Question 1: What is your name and educational background?
Answer: My name is Awaid Irshad Bhatti and I completed my high school
education from Aitchison College. After this, I did BSC from the University of
California and then I did M Phil in Development Economics. I did a job in
Cambridge University where I worked on comparative development and makes effective human capital growth.
Question 2: What featured of Pakistan Administrative service attracted you most?
Answer: PAS is my aim from my childhood and it passionate me in the field
of CSS. PAS gives me the opportunity for the development of personality and it creates a positive impact on society.
Question 3: How many years your experience at World Times Institute?
Answer: I came back to Pakistan in March 2016 and joined World times
institute. Where Sir Adeel Niaz support me and give me a motivation source in the process of CSS. WTI gives me a platform in which I took every exam including Test series and Mock series and me to gain the highest scores.
Question 4: According to your opinion; is there any key to gain a position in CSS exam.
Answer: Practice, time management skills and making notes by himself are helpful to handle paper of CSS in the exam. I would advise that you can make notes by himself in your house because of making notes in very important for success.
Time management is the main key when you attempt paper of CSS and try only to give sort answers a rather-less lengthy question. Try it only attempt paper concept wise and focus on important aspects within your answer. Another aspect is to check your notes regularly through practice exams and keep updating them every now and then.
Question 5: Generally compulsory subjects are considered as low-scoring, what was your strategy throughout these papers?
Answer: Understand that every subject has its own technique. For example;
Islamiat not only requires reference but also an application of Islamic values in the contemporary scenario. Current Affairs that includes multidimensional view, flowcharts, and maps that convey your viewpoint. Similarly; handling MCQS a lot of people fail by predicting them and these are difficult to prepare. For MCQS you can prepare within course book of CSS.
Question 6: What was the method to gain your success?
Answer: When I am doing the job in Cambridge I handle various tasks in a very systematic manner. CSS is the most difficult exam in Pakistan that depends only on a few books that directly target your syllabus and then make your own notes for preparation of exam. CSS exam gets various aspects from all sides and it all depends on your logic.
Question 7: How can you handle your exam paper to get maximum marks?
Answer: Firstly you focus only on your targeted answers. I quote one
example that for example; if asked about Kashmir issues solution then only on focus solution, not the historical background. This allows the examiner to know that you understand the question.
Secondly, divide your answers into subheadings that allows the examiner to get important aspects in less time.
Thirdly, the use of flowcharts, maps, and diagrams that allows you to convey your point of view in a distinct manner.
Question 8: What method is essay to get excellent marks in this paper?
Answer: some key points as given below…
First; fully understand the topic and structure of the question.
Secondly, focus on the outline as well as the introduction. The outline conveys your ideas and introduction makes helpful the examiner a fair idea about your command over English grammar.
Thirdly, always focus on the single and well-connected representation of your ideas.always avoid controversial aspects and give the answers to the point of view. This reason is that it responds to the examiner positively and reduce the unpredictably answer to the examiner.
Fourth, don't Ratta on essays, in fact, you can develop new ideas. Conclusions and outline as much as you can give because it allows you to learn the skills of thinking.
Finally, your conclusion should cover the main aspects of the essay and provides an optimistic overview. Your aim is to approach the solution of your problems in a pragmatic way.
Question 9: How can you handle DE-motivations if you faced?
Answer: De-motivation is part of life. If I found in such a situation in my
life, I sought help from teachers. Failure is the best source of learning about how to improve. So, never lay down any DE-motivation overwhelm you. All the lows are helpful to make you stronger in your life.
Question 10: Any Tips if you Give to Newbies.
Answer: My advice for newbies is good time management and strategic
planning. Take it as an opportunity to learn and develop your personality not only as a potential civil servant but also as an individual.
Hopefully, this article will be very helpful and informative for all of you and especially for those, whose wanna prepare css exam or continue or even his mind to do CSS in their future.
1 thing I said all of you if you want to get good marks in CSS Exam because this is tough and high merit test, so you need to read all post & articles related to CSS Preparation, also I have given links above of all about CSS Preparation. And main thing Compulsory Subjects for CSS exam, then you have full concentration and grip on thats subjects, and I suggest you to read this ArticleHow To Prepare CSS Compulsory Subjects 
And If any question, confusion about anything even you have problems to that how to prepare css, or problems faced to the css preparation and problem and confusion about the selection of subjects in Optional Category, then all of you fairly asked here in the comment box, we will respond you within a short time.