FPSC Jobs 2022-Auditors, IT, Medical
In This article all of you know about upcoming Federal Public Service Commission Jobs 2022, that also know as fpsc jobs, Now this time many vaccines will be announced means Total Vacancies Of latest fpsc jobs will be 1117.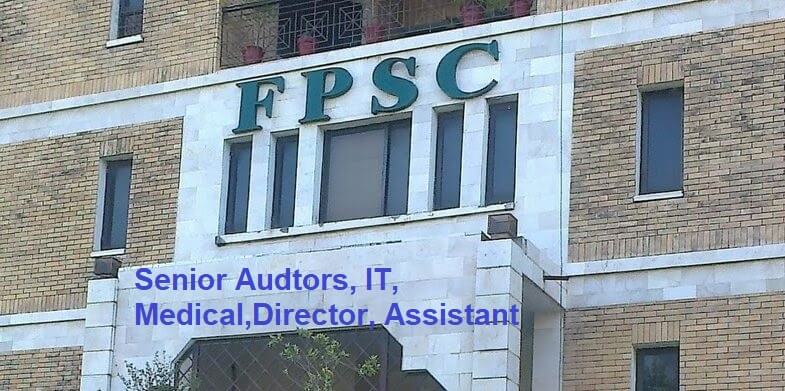 These FPSC Jobs consist of different types of jobs like auditors, IT, Scientific Officers, Research Officers, Economic Adviser etc and many more, But this time Auditors jobs have many round about 1007 jobs.
Jobs with Vacancies
Senior Auditor ( BPS-16 ) 1007
Junior Scientific Officers( BPS-17) 03
Junior Scientific Officers (BPS-16) 03
Scientific Officers ( BPS-17) 01
Chief ( BPS-20 ) 01
Deputy Chief ( BPS-19 ) 01
Assistant Chief (BPS-18 ) 02
Research Officers ( BPS-17) 01
Research Officer Power ( BPS-17 ) 01
Programmer ( BPS-17 ) 01
Assistant Professor-Math(BPS-18) 01
Assistant Professor Female ( BPS-18) 05
Demonstrator Male ( BPS-16) 03
Demonstrator Female ( BPS-16) 01
Librarian Male ( BPS-16) 01
Medical Officers Male ( BPS-17) 05
Medical Officers Female ( BPS-17) 01
Director General ( BPS-20) 01
Assistant Electronic Advisor ( BPS-18) 01
Medical Officers ( BPS-17) 01
Assistant Private Secretary ( BPS-16) 17
Director ( BPS -19) 02
Deputy Director ( BPS-18) 14
Assistant Director (BPS-17) 26
Data Control Officers ( BPS-16) 09
Inspector (Tech) (BPS-16) 01
 
All Jobs Related that you will be willing, all basic and complete information are given for all post, all these jobs passes through fpsc jobs, And all these jobs categories appointed in Islamabad , Pakistan.
Eligibility Criteria
The eligibility criteria for these above all types of jobs will be minimum Master in their relevant Subject even they concern with Medical, Economics or IT. And these jobs are permanent.
Read:-upcoming educators jobs 2022 in punjab
For Senior Auditor ( BPS-16) : Minimum Education will be 2nd Division In Bachelors degree in Economics, Com race, Statics, Math, Accounting.
How To Apply
Applications will be Submitted by Online fpsc 
Candidate must submit All their data and documents information in the online application form before the closing date.
No Hard copy will be required for these jobs
Application Fee: BPS 16 and 17 BPS = 300 Rs
Bs 18 Application fee will be 750,
For BS-19, the fee will be 1200
From above Scale like BPS-20, the fee will be 1500 Rs
Scene Your all relevant Documents and Challan Form
Submitted challan according to their relevant post name 0r job
After when all things will be done, and after online apply, fpsc gives you application number.
Scale ( BPS-16 & 17 ), MCQS test will be held
The scale above 17th scale,
When your Apply successful, then you have got a notification or message.
So, above information about all jobs that mentioned above, And hopefully this article will be helpful for these above jobs. If any Question or Confusion then comments us.