Here in this article, I will give you top tips for preparing MCAT Test 2019 from experienced Student of last year whose will be the last year topper, so follow these steps to get highest marks in mdcat 2019. So if medical students searching about how to get 1000 marks in mdcat test then this platform TheEducator.pk will be the right place for them by searching, preparing and guideline.
Related: Mcat Test 2019 Date, Syllabus, Fee & Past Papers
MCAT (Medical and Dental Admission test) topper OF last year in          Pakistan, it means mcat topper interview given below with details. Every year, thousands of students take to apply for admission in MBBS and  BDS for medical institutes of Punjab.
Related: Role Of Mcat Test in Pakistan 
Last year merit list is closed on 89.1%   which can be achieved by Talha Khan. And he tells about his experience that how to get 1000 marks in mcat and also he tells about main points and tips that will he follow and now his name will be considered in the list of mdcat topper 2018.
Introduction of Talha Khan [ MDCAT Topper 2018 ]                               MDCAT(Medical and Dental admission test) topper name is Talha Khan. Talha Khan was born in 1997 and he is the student of MBBS. He got 1004marks out of 1100 marks in Medical and Dental admission test by the Quaid Azam Medical College Bahawalpur.
MDCAT Topper Interview of Talha Khan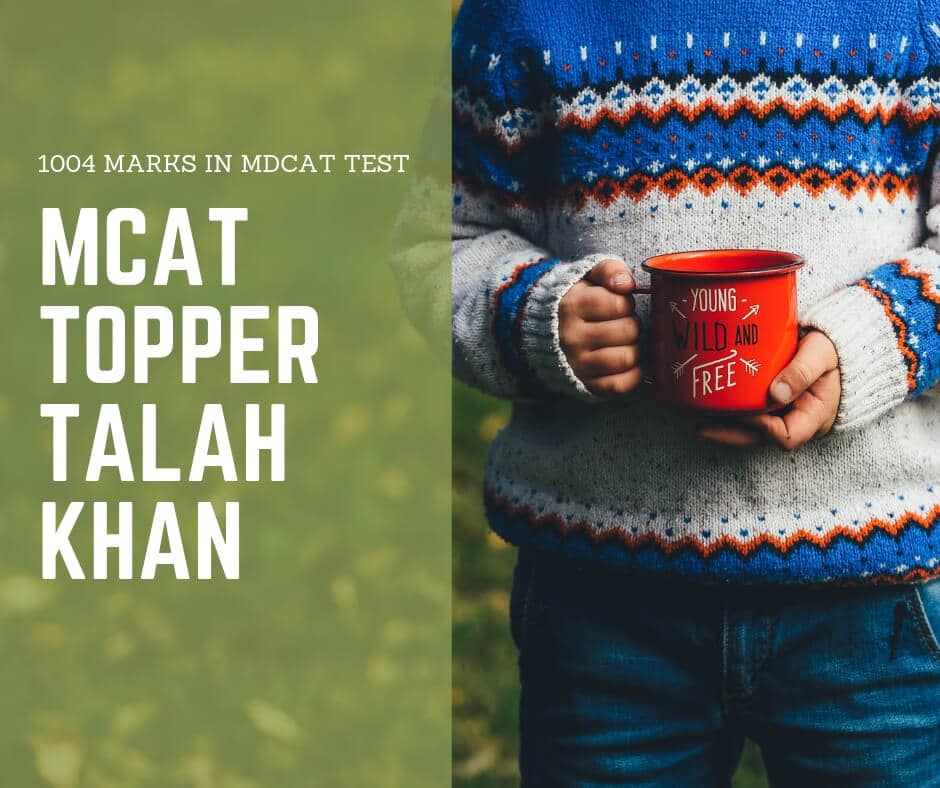 Question 1:      Tell us about yourself? 
Answer:            Well, my name is Talha Khan. I am MBBS Student at Quaid Azam medical college Bahawalpur. I did my Matriculation from a Govt. High School and Intermediate from an Academy Situated in Kot Addu, a Tehsil of District Muzaffar Garh.
Question 2:       Did you attend an academy for MDCAT and F.S.C preparation?
Answer:            As I jotted down earlier, I did my entire F.S.C from an academy and Tackled MDCAT syllabus from KIPS Campus, Multan.
Question 3:       What was your timetable? 
Answer:            Well, there is no timetable. The more I got free time, the more I studied. The main thing is, I used to prepare my daily tests and lectures on the daily base.
Question 4:       Tell us about your way of memorizing did you learn or write? 
Answer:            Amm…Both. Those topics which are hard to tackle are memorized by writing and vice versa. But, here I must add, one must grip on the basic concepts.
Question 5:       Nowadays Many Students, Start preparation during FS.C, did you start during F.S.C? 
Answer:            No.MDCAT needs much more time. While doing F.S.C, a student must focus on F.S.C. syllabus.
Question 6:       What do you think which are important? Notes or books? 
Answer:            Both are important. Books have fewer concepts and more words. One must make notes to write basic concepts and such other things for revision.one important thing are that you can't prepare your MDCAT test with full grip without making notes.
Question 7:       Did you recommend MDCAT Guide Dot Com for downloading notes and study tips? 
Answer:            If a student of MDCAT wants to score good marks in MDCAT, he must have to clinch knowledge from every possible source. Knowledge doesn't let you down. It is always beneficial.  I recommend TheEducator.pk because it saves your time all MDCAT Related Latest study stuff as well as practice papers and notes available here for free.
Question 8:       How did you keep motivated yourself toward your goal?
Answer:            Just one thing. I have made up my mind that I've to succeed and that's it. I showed it to the world in the end.
Question 9:       Your last message to your juniors MDCAT? 
Answer:            Hardships are part of life. If you stumble, get back up and move closer to your dreams. After you'll get success, none will remember your falls. Just instill one line in your mind: "I can, I will."
Hopefully, this article will be very helpful for all of the students and especially for medical students who continue preparation mdcat test 2019. As here you will get complete guideline from experienced student Talah Khan who gives all tips and tricks to prepare mcat test 2019 and also he shares his experience.
Related: